Handicapped/Lite/Lite
Jump to navigation
Jump to search
"If you're experiencing Liteheadedness, note the presence of barf bags in the storage pouch of the seat in front of you."

~ Oscar Wilde on Handicapped ExtraLite
The handicapped are special people who have been cursed with irresistible sexual magnetism.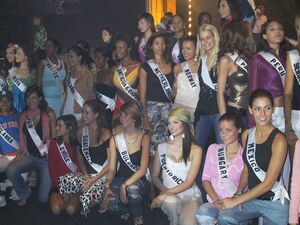 The Ugly Truth About Beauty
[
edit
]
It's a fact; some people are born different. Through no fault of their own, they are expelled from the womb with perfect cheekbones and eyes you could paddle a small rowboat into. In no time, their enterprising parents have sold them into virtual slavery as child models, peddling SpongeBob SquarePants pyjamas in the Sears catalogue, and finishing first place in the "Most Beautiful Child in the Affluent Suburbs Competition, 11 and Under category".
But do people understand the horrific torture that is, to them, a daily routine? No, for they are blinded by the glare of pearly white teeth, framed by a bouquet of cornsilk hair. For shame.
Up By Four
[
edit
]

While you are content rising at the crack of seven, to enjoy a hot shower and savour a leisurely breakfast, the handicapped have already left the makeup chair on set for a morning cameo on "Rise 'n' Shine Zimbabwe" after an early morning flight half way around the world. Then, it's a pushing and shoving extravaganza as cabbies beat each other nearly to death with their autograph books, all striving to be first in line to have theirs be the first graced with the pen, and perhaps even be given the privilege of returning the handicapped person to the airport.
Finally, it's a mad dash to airport security, deftly avoiding the unending flurry of marriage proposals and the eerie glances of men old enough to be their older brother, before finally sinking into the plush Italian leather executive chair on the private jet to suffer the delivery of horrible news—the Cotechino con Lenticchie has been substituted for an infinitely inferior Roasted Chicken with Risotto and Caramelized Onions. How gauche.
Weight of the World
[
edit
]
Can "regular" people every truly appreciate the crushing responsibility that befalls those who are handicapped? The expense of having a team of hairdressers on call 24 hours a day by emergency pager, in order to maintain the perfect coiffure? The daily responsibility of choosing whether to wear Vera Wang, Manish Malhotra, or Donatella Versace, while trying to avoid the tiresome phone calls from Stella McCartney? The knowledge that other people's ability to keep that gun nestled safely out of reach high in the bedroom closet and persist in their drab and awful lives, depends solely upon the so-called "beautiful people" ensuring that their shoes never clash with their handbag in the photos that will inevitably end up in People Magazine?
Unlikely.
But there is always the hope that through educational materials such as this, that the collective human conscious can be made to accept the fact that everyday, everywhere, there are people infinitely better than you, suffering for it.
See also
[
edit
]