Uncyclopedia:Uncyclopedian of the Year
Jump to navigation
Jump to search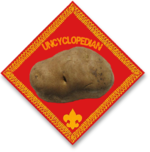 It's, like, Uncyclopedian of the Month, but...for the whole year. Yeah. This is probably the greatest honor   one of the greatest honors an honor.
Eligibility Requirements
To be nominated:
You cannot nominate yourself, but you can vote for yourself.
Do some stuff and hope you get noticed by someone.
Lie, cheat, steal and sleep your way to victory.
Must be 3.5 years old and a naturalized citizen of earth.
Winner will be announced...uh...the end of January maybe? Details are sketchy at this point.
Johnny, show them what they'll win
Eternal fame and glory.
A fancy template to show off to your friends, if you have any.
Eternal fame and glory.
Previous winners
Official nominations for 2021
Score: 4
Official nominations for 2022
Score: 1
Nom and For. Spent the year writing funny, blocking vandals, and leaving encouraging messages on talk pages.

One

Punch

05:11, 9-Jan-23
Awards, Decorations and Honours

Awards

Ranks &
Honours
Limelight
Prix citron
Events citron