UnNews:Socalist Party Declined in School Election
Jump to navigation
Jump to search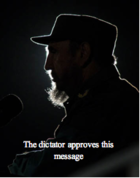 ---
Truth doesn't "live here" — It's just camping out
✪
UnNews
✪
Saturday, December 9, 2023, 22:35:

59

(UTC)
---
| | | |
| --- | --- | --- |
| Socalist Party Declined in School Election | | |
21 May 2008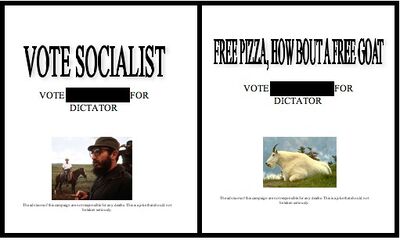 California: When a small, seriously messed-up school ran a student government election today, no one expected one of the most hilarious and boondoggled upsets in the history of hilarious and boondoggled upsets. But that's precisely what went down when a student as actually elected "School Dictator". Another student was blamed for the campaign ads; it turns out two were responsible. The two student were ordered to take down the posters because some stupid asshole noted they were "offensive" and that they made "a mockery of very serious student body elections in which the candidates have thrown in a lot of effort".
The accused student told the sunuvabitch "if you read the fine print (which no one ever does), you'd know that any nausea, heartburn, indigestion, upset stomach, diarrhea, death, or any combination thereof is not the responsibility of the campaign advisers; this was only intended as a joke, and has been seriously taken out of context." The aforementioned sunuvabitch still considered the signs offensive and subsequently asploded.
The second student created a less offensive poster, got rid of the VOTE SOCIALIST and changed it to FREE PIZZA - HOW BOUT A FREE GOAT? and wore it on his stomach. Unfortunately the signs were still considered offensive and the student was asked to take the poster off his stomach, which he managed for only one class.
Later in the day, students noticed a VOTE SOCIALIST poster on the geometry teacher's wall. Both of the teachers in the room declared their support for the candidate for dictator; they also agreed to sign a petition stating that they "did not find [the posters] offensive." One teacher stated the fact that there was "clearly a disclaimer stated boldly" in four-point font "that obviously legitimized the entire affair as perfectly legal." Several other students and the school's headmaster agreed that it was "humorous and not offensive."
The stupid sunuvabitch also thought that the student who was running for dictator had not taken part in this joke. However, the dictator said that he approved each of the ads before they were posted, and even dramatically posted some of his own; he did not find the campaign in his name offensive in any way.
When the polls were sent in, it was revealed that eleven children, out of 50,000 students, put the dictator on the ballot and voted for him. One idiot actually only put down his vote for dictator, until he realized that you were supposed to actually fill out the rest of the ballot. Out of the eleven, all were Freshmen, ten out of the eleven were male, and one was the Dictator himself. With a landslide victory, the Dictator plans to make an acceptance speech before clamping down on all forms of communication inside the school and forcing his subjects to worship goats.
His campaign advisers/Ministers of Propaganda and Torture are currently preparing for the 2009 student body elections.
Sources
[
edit
]