UnNews:Orca Makes Court Appearence to Answer a Host of Charges After Trainer Killed
Jump to navigation
Jump to search
---
Truth doesn't "live here" — It's just camping out
✪
UnNews
✪
Saturday, December 2, 2023, 05:57:

59

(UTC)
---
| | | |
| --- | --- | --- |
| Orca Makes Court Appearence to Answer a Host of Charges After Trainer Killed | | |
26 February 2010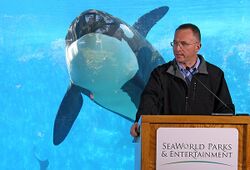 Orlando, Florida, USA (UnNews) - An orca charged with killing a Sea World trainer made his first court appearance today via videophone from his tank. Tilikum, 30, is charged with second-degree murder in the death of Dawn Brancheau, 40. In addition to the murder charge, Tilikum, is facing a variety of other charges including parole violation, aggravated assault, obstruction of justice, and assault with a deadly weapon.
The attack happened on Wednesday during a routine show. Tilikum grabbed the woman by her waist and pulled her under. The woman suffered multiple traumatic injuries as a result of Tilikum thrashing her around but a preliminary report ruled the death a drowning. Authorities declined to charge the orca with first degree murder due to the fact that the attack did not appear planned.
Tilikum does have a violent history, in 1991, he was convicted of manslaughter after he killed one of his co-workers at Sealand of the Pacific in British Colombia. He served 7 years for the crime and was paroled in 1998, after serving one third of his sentence. After he was paroled he was hired by Sea-World as a show animal.
He was linked to a suspicious death in 1999 when a dead naked man was discovered in his tank. The orca maintains that the death was accidental. He says it was a night of drinking and wild sex that went wrong. Tilikum was vindicated when the autopsy showed the man was highly intoxicated, had no traumatic injuries, and drowned.
For the last 10 years he was peaceful and was not involved in any criminal activities. His defence attorney, Chuck Tompkins, argues that the death was accidental. He points to the fact that he and his trainer had a great relationship and that they had just completed a "wonderful session" together. He believes the whale got spooked and thats why the attack occured.
District attorney Naomi Rose argued that Tilikum knew full well what he was doing. "We can't prove that he planned the attack but at that moment it was clear he intended to kill the victim. That is why we are proceeding with the second-degree murder charge. Orcas are highly intelligent animals and you can't convince me that this was an accident. I mean look at his history, he was already convicted for one death and was linked to another. If I didn't know any better, I would classify this orca as a serial killer". Tompkins scoffed at this suggestion pointing out that Tilikum was exonerated in the 1999 death. He pointed out that the '91 killing occured as a result of a fight between co-workers after a night of drinking. Tilikum quit drinking in '99 after the man was found dead in his tank. "This orca is no more of a serial killer than Jeffrey Dahmer is a model citizen. This whole thing is just a terrible mistake".
Judge David Koontz said that there is enough evidence to go to trial but gave Tilikum the option to plead guilty to the lesser charge of manslaughter. Although he was appalled by Tilikum's crimes he did acknowledge that it was not planned. He also said Tilikum's good behaviour over the past 10 years is a mitigating factor. Tilikum does face other charges because of the fact that he violated parole (he was still on parole until 2012), used a deadly weapon during the assault (his powerful jaws), obstructed justice (would not allow anyone in the tank after the attack), and resisted arrest (same reason as before). Judge Koontz told the orca that he had a good chance of being convicted on at least some of the charges and recommended he accept a plea bargain. Tilikum and his attorney asked that court be adjourned for several weeks so Tilikum can decide what plea he would like to enter.
The judge released Tilikum with a host of conditions until he makes his next court appearnce March 28th to enter a plea. Tilikum is to remain at his home at SeaWorld unless leaving for medical purposes, he is to refrain from using drugs or alcohol, and must remain muzzled around people so he does not pick them up in his jaws anymore. Tilikum posted $100,000 bail. Tilikum told reporters that he is not sure what plea he will enter but says he will follow his attorney's advice. He also expressed regret for what happened but maintained he did not intend to kill Brancheau. If convicted, Tilikum could spend the rest of his life behind bars.
Sources
[
edit
]