UnNews:Condoleezza Rice vows not to appear nude in Playboy (or anywhere else)
Jump to navigation
Jump to search
---
Every time you think, you weaken the nation —Moe Howard
✪
UnNews
✪
Friday, December 3, 2021, 19:01:

59

(UTC)
---
| | | |
| --- | --- | --- |
| Condoleezza Rice vows not to appear nude in Playboy (or anywhere else) | | |
13 January 2007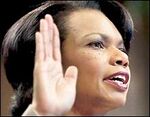 WASHINGTON, D. C. - Following the nude appearance of Air Force Staff Sergeant Michelle Manhart in Playboy magazine, which hits the stands next month, President Bush has asked Secretary of State Condoleezza Rice to swear, her hand on a Bible, that she will not follow suit.
With Democrats already seeking to discredit his new plan for the ongoing war against terrorism in Iraq, the president wants to be sure that no other controversies occur that will give the rival political party any ammunition against him, his cabinet, or anyone else associated with his administration.
According to rumors on Capitol Hill, Secretary Rice was approached by a Playboy "talent scout" and by a representative of the new Bachelorettes' Party magazine, both of whom "put out feelers" to see whether Secretary Rice would be willing to doff her clothes for a photo spread. "Allegedly, Hugh Hefner offered to make Condi Miss May" and to pay her 10 times the usual amount that a Playmate of the Month earns for getting naked, industry insider Larry Flynt said.
Bachelorette Party also offered her "a lot of zeroes," Flynt said.
"It would be quite a feather in our cap," Hefner's daughter, Christie, Playboy Enterprises' chairman and CEO, said, "so, naturally, I convinced Daddy that we should go after her."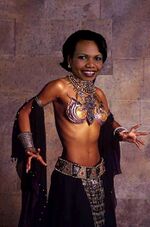 Although Secretary Rice vows not to "go nude," pictures of her in a skimpy bikini have been posted on the Internet.
"She's a sexy vixen," Manhart agreed, when she heard that the Secretary of State was asked to model nude for the same magazine in which she will be displayed next month. "I wish she would do it," the embattled staff sergeant said. "Then, maybe the Air Force--or 'Air Farce,' as I should say--would let me stay in instead of giving me a bad discharge and the boot. I should be getting a promotion for promoting the military. Because of my appearance in Playboy next month, recruiters are estimating a high enlistment rate for February. Instead, the brass are firing me, the bastards."
Asked her opinion concerning Manhart, Secretary Rice replied that she had no comment.
President Bush was not so reserved in expressing his point of view. "Let me say that, as commander in chief, I am disappointed in Staff Sergeant Manhart. She should have advised her commanding officer in advance of her posing for such a magazine. Then, we could have promoted it properly, having her pose with me in the Oval Office as I pinned a medal to her breast for--I don't know--service above and beyond the call of booty duty or something. That would have bought us both a lot of publicity. Then, we could have given her the boot."
Press Secretary Tony Snow told reporters that the president was quoted out of context and that his concern that Secretary Rice promise not to appear nude shows his commitment to maintaining a fully clothed cabinet--and military. "Besides, what would the First Lady say about the president posing with a half-draped Air Force sergeant?"
Senator Hilary Clinton (D-NY) and Speaker of the House Nancy Pelosi (D-CA) both applauded Rice's vow not to appear naked.
"That would be a major setback to women in high places," Clinton said.
"Who wants to see that bitch naked, anyway?" Pelosi asked.