UnNews:Chronarion's Second Coming Causing a Wave of Fundamentalism
Jump to navigation
Jump to search
---
Truth doesn't "live here" — It's just camping out
✪
UnNews
✪
Friday, June 9, 2023, 18:26:

59

(UTC)
---
| | | |
| --- | --- | --- |
| Chronarion's Second Coming Causing a Wave of Fundamentalism | | |
7 August 2006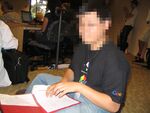 Cambridge, MA The Interweb -- It took the zealots only a short time to realize the most obvious and immediate repercussion of the amazing return of the all mighty - the reviving of the Church of Uncyclopedia.
In just a few hours, hordes of heavily armed Uncylopedians filled the once quiet cypress groves of Cambridge, demanding the dismantling of the state and the immediate transfer of power from the Pope into the hands of Chronarion and his followers.
"Our demands our simple!" declared the high Uncycloquisitor, the Hon. Rev. Zim Ulator. "We wish for the authorities to comply with this list of simple demands:
The Immediate incarceration of Jimbo Wales
Immediate banning of ED and the banishment of its crew to a desolate location.
A new Ferrari Enzo to the holy prophet.
And of course, FREE BEER AND REEFER TO ALL!"
"Should our list of demands would not be answered immediately to our full satisfaction, dire consequences shall follow. Heed my words mortals, and tremble" Concluded the Rev.
Amongst the great confusion in the streets, hundreds of police officers, armed forces of all sorts, hordes of zombies and the occasional Grue we managed to have a word with one of the leading military strategists of Uncyclopedia, Identified only by a $ insignia embedded on his uniform.
"How do you plan to achieve your goals?" we demanded of him. "Look around you", he responded smiling a wicked little smile "We unleashed our entire holy arsenal - Grues, Euroipods, n00bs, Chuck Norris and much more. Our factories also started manufacturing a whole new arsenal. They don't stand a chance. I have only one request from those who oppose us: Run and hide! Run and hide! Should I finish you off before I have the chance to use our Crocodile with crocodiles for limbs or Laser Guided Polar Bears I'd be more than disappointed".
The Holy Prophet himself was not available for comment.