UnNews:Cause of Calif. 'mysterious shaking' discovered
Jump to navigation
Jump to search
---
Truth doesn't "live here" — It's just camping out
✪
UnNews
✪
Tuesday, November 30, 2021, 17:25:

59

(UTC)
---
| | | |
| --- | --- | --- |
| Cause of Calif. 'mysterious shaking' discovered | | |
6 March 2009

SANTA ANA, CALIFORNIA -- Several residents have reported a 'mysterious shaking,' sufficient to cause doors and windows to rattle, during the morning of Tuesday 3 February. Nearby Edwards Airforce Base said that they were not carrying out any space shuttle activity, and no other rockets or other machinery capable of causing such an occurrence were in use at that time. Seismologists at the U.S. Geological Survey stated that they had not found any evidence of an earthquake, and so the weird occurrence looked set to become just another example of an unexplained phenomenon.
However, the case has been solved by eagle-eyed internet news junkie and amateur geologist Helene Lichdyke, of Orange County who traced it to a seemingly-unrelated story from Monterrey in Mexico. "Although Santa Ana and Monterrey are around a thousand miles distant from one another," says Ms. Lichdyke, 34, "maps of tectonic plates show that they are both situated on the same geological feature - a vast slab of rock that extends from southern Mexico right up to just north of Los Angeles. Wondering about the strange shaking that has been in the news here, I began to consider that maybe it had been caused by something somewhere along this slab rather than something more local."
She eventually tracked down a likely culprit - Manuel Uribe, known in Mexico as The World's Fattest Man, who weighs in at a staggering 1230lb (88 stone or 558kg). Manuel - known as Meme to friends, due to his standard reply whenever someone asks if anybody would like a burrito, has been bed-ridden for more than six years as his legs are simply unable to support his massive bulk for any more than a few steps. "Basically, I haven't even been able to wash," says Manuel, "so you can imagine I really stink. In the end, I looked around to find out if there was anywhere that had washing facilities suited to a man of my stature and was lucky enough to be put in touch with the chief keeper at Mexico City zoo, where they have a special reinforced platform and high-pressure hoses usually used to clean their elephants." He was, however, unable to travel to the zoo, prevented by his enormous girth from getting into a normal car.
"A few of my friends got together and came up with the idea of constructing a custom vehicle for me," he goes on. "They began with a Chevrolet Astrovan, chopped off the roof and converted it into an open pick-up truck. Then they swapped the shock absorbers for some usually used on one of those giant dumper trucks you see at quarries. Great guys, my friends - they call it the Mememobile."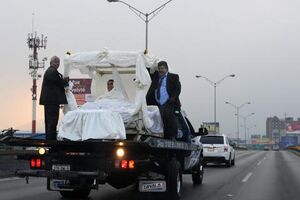 "We didn't like to see him having to lie there in bed all day," says a friend who wished to remain nameless, "and it didn't look as though he was going on a diet anytime soon so the van looked like the right thing to do, because he's a good guy and we like to see him, but believe me the man reeked to high heaven. There was rotten food trapped between the sweaty crevices of his flabby gut - it was sickening. It was worthwhile, because you should have seen the look on his face when we first took the van round to show him - he couldn't wait to give it a go and literally ran from his front door down the driveway to have his first drive. Manuel running is not something I ever want to see again - it took some time for outlying regions to come to rest." He added that they tend to refer to the van as the "Fatbastardmobile" when Manuel is out of earshot.
Lichdyke takes up the story: "I'd seen Manuel's story on an online news service, and thought there might be a connection. I experimented with some granite of the same type as the tectonic slab, and discovered that a shock would take precisely six minutes to travel a distance of 1000 miles through it - roughly the same distance from Monterrey to Santa Ana, so then I e-mailed the news service and asked to be put in touch with him. He was able to reveal that he'd looked at the time just before his friends arrived with the van, because it had been nearly 12 minutes since he last ate, was getting hungry and wondered if it was about time he had another plate of hamburgers. He said the clock in his kitchen read 9.08 am, so he'd have opened the door and ran down the drive at around 9.09 - precisely six minutes before the shaking was reported at 9.15."
Sources
[
edit
]