UnNews:Canine Couriers clean up
Jump to navigation
Jump to search
---
We distort, you deride
✪
UnNews
✪
Thursday, December 9, 2021, 13:08:

59

(UTC)
---
| | | |
| --- | --- | --- |
| Canine Couriers clean up | | |
1 March 2007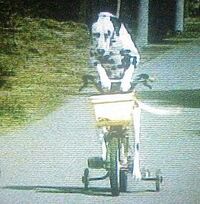 DOGGY STYLE, MI - Hattie Hempstead, age 88, of Doggy Style, Michigan, is often too frail to walk more than the 20 feet of distance between her bed and the bathroom or kitchen. However, her mind is far from feeble, and she has used her intelligence (her I. Q. puts her in the "genius" category) to train her Dalmatian, Doris, to fetch her morning newspaper, run errands, and shop for her. Doris even takes Hattie to her weekly doctor's appointment on her bicycle. Mistress and beloved pet ride double, with Doris "driving."
Doris means the world to Hattie, and Hattie means the world to Doris. "You never see one without the other," Stanley Matthews told Unnews' reporter Lotta Lies. "Doris even brings Hattie to church." The couple sits front and center, "so Hattie can hear the preacher. They haven't missed a service since Hattie adopted Doris from the local animal shelter, a day before Doris was scheduled to be 'put down like a dog."'
Not everyone is as enamored of Doris as Hattie is, though. Abigail Agnew, Hattie's next-door neighbor, said, "They ride their damned bicycle on the sidewalk, rather than on the street, and the dumb animal never signals its intention to turn or yields the right of way. The mangy fleabag has almost run me down several times and, besides, Doris doesn't have a driver's license."
"My Doris does have a license," Hempstead maintained, "and she's had all her shots, too."
Doris is quite an accomplished dog, Tommy Smithers, another of Hempstead's neighbors agrees, "but neither she nor Hattie always pick up after Doris, if you know what I mean."
To remedy the problem to which Smithers alludes, the congregation of Hempsted's church has bought Doris a lifetime's supply of either Pampers or Depends, as she prefers. "The bitch is all set," Hempstead's pastor, Bill Harris, said. "She's welcome in church anytime, wearing Pampers, Depends, or nothing at all."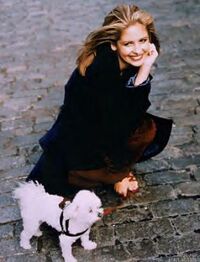 Next week, according to Hempstead, Doris will begin working a temporary part-time job as a messenger for Hempstead's new business, Canine Couriers. "Dogs are faster than humans, don't ask for wages or benefits, are willing to go anywhere, and are loyal employees," Hempstead said. "I know because of my own dog."
Several celebrities have decided to offer their dogs' services as messengers for Hempstead's Canine Couriers, both to lend their names and prestige, such as it is, to her business and to ensure that their pets "get a little exercise," as Sarah Michelle Gellar put it in explaining why she lends her pet dog, Thor, to Hempstead. "Thor's so lazy," the actress bitched. "It's unbelievable. He has less ambition even that my husband, Freddy [Prinze, Jr.]. At least, Freddy had enough spunk to marry me."
Thor will deliver small items, such as jewelry, cosmetics, and ladies' sex toys. Other, larger dogs may deliver television sets or even refrigerators. "No job is too big or too small for Canine Couriers," Hempstead said, "and every one of our mutts pulls his weight, because they know that slackers end up at the animal shelter."
Already, the messenger service is doing well. "You might say that Canine Couriers is cleaning up," Gellar quipped.