UnNews:Canadians see no pattern in 2 jihad attacks
Jump to navigation
Jump to search
---
Fake News that's honestly fake
✪
UnNews
✪
Monday, December 6, 2021, 17:13:

59

(UTC)
---
| | | |
| --- | --- | --- |
| Canadians see no pattern in 2 jihad attacks | | |
24 October 2014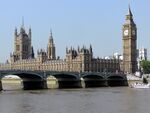 OTTAWA, Ontario -- Canadian authorities say the week's two jihad attacks do not appear to have anything in common but are "lone wolf attacks" and possibly cases of "workplace violence."
Authorities said that jihadist Michael Zehaf-Bibeau, who shot up the federal Parliament, seemed lost and went more than five years without seeing his mother. He had wanted to go to Libya or Syria to join ISIS but became agitated when he couldn't get a passport. Members of Parliament, after a five-minute standing ovation, began debating whether the Passport Bureau should be reformed, or merely streamlined for loners with numerous drug arrests whose hobby is holy war; or whether an entirely new Ministry should be set up so that Canadians who seem lost or sociopathic could be gotten to visit their mothers more regularly.
In contrast, the government knew that the jihadist who plowed into two soldiers at the Warm Memorial in Quebec was a jihadist and had seized his passport. Thus, his grievance would not have been remedied by new steps to issue passports more swiftly.
Green Party leader Elizabeth May said that this week's attacks were "the acts of isolated, disturbed and deeply troubled men who were drawn to something crazy." She was sure the "crazy" thing was not some religion with a holy book directing the faithful to go on jihads, converting infidels "by the sword" and "smiting their necks." After all, neither man used a sword at all, but rather a Winchester rifle in one case, and an automobile in the other, entirely unrelated, case.
The bloodshed raised fears that Canada is suffering reprisals for joining the U.S.-led air campaign against ISIS in Iraq and Syria. Parliament was ready to set up a committee to study reacting to the two totally unrelated assaults by reforming the nation's foreign policy, until wiser minds remembered that neither Barack Obama nor Neville Chamberlain is Canadian at all.
Parliament did resolve to handle future workplace violence in the capital differently, directing PM Stephen Harper not to hide in the closet next time, and arranging to have his guards in the same office suite rather than across the hall.
Sources
[
edit
]