UnNews:Bush declares "Mission Accomplished" in War on E. coli
Jump to navigation
Jump to search
---
Democracy Dies with Dignity
✪
UnNews
✪
Thursday, December 9, 2021, 14:47:

59

(UTC)
---
| | | |
| --- | --- | --- |
| Bush declares "Mission Accomplished" in War on E. coli | | |
4 November 2007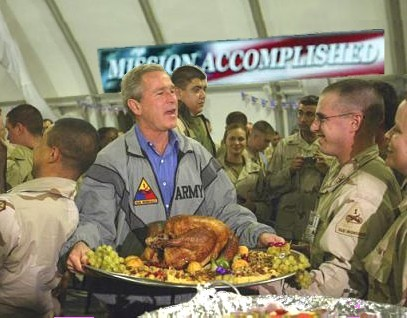 WASHINGTON D.C. — US President George W. Bush declared an end to major combat operations against E. coli in America today to an ecstatic crowd of 1,500 sailors and a plethora of reporters aboard the U.S.S. Nixon. "We have successfully flushed-out the E. coli menace," said Bush, "E. coli, as we all know, has posed a threat against America for some time, and was directly responsible for the attacks of September 11th. This is a great accomplishment for Americans everywhere, especially in America."
Despite Bush's claim that the mission has been accomplished, infiltration by E. coli into the American grocery stores has been continuous and recent. In late September, the Topps Meat Co. recalled 21.7 million pounds of frozen hamburger patties after 40 people in eight states got sick from contaminated beef believed to have been imported from Canada. In light of this most recent attack, Secretary of State Condoleezza Rice has hinted that the United States military may begin combat operations against Canadian cows. UnNews was able to get a brief word with a Quebec-native vache, who when asked about her opinion on the matter, stated, "Moo, eh?"
Despite the soaring death rate of American troops in the fight against E. coli, who was recently added to the Axis of Evil as described by Bush, the Bush Administration has been adamant that the military campaign against E. coli is both, "Necessary and expensive." Only half of this statement is true. Bush has also recently promised a sort of "electronic warfare" against E. coli, which will further utilize computers to help gain intelligence and identify threats on the battlefield. UnNews questioned a computer from the US Navy, which elaborated further, "011011 01101000 01100101 0010, 01100001 0110010 0111010 01101001. 0110001101101100 01100101 0010 01111001 01101111 01110101001 01100001 011100 00100000? 01100 01101111 01101111! 01101011 01101001 01101110 01100111 00100000 01100001 01110100 00100000 01101101; 011, '01111001' 00100000 01101110 01101111 011101. 01?"