UnNews:Bush 45 dumps documents on own foot
Jump to navigation
Jump to search
---
Your A.D.D. news outl — Oooh, look at the pictures!
✪
UnNews
✪
Thursday, December 9, 2021, 13:45:

59

(UTC)
---
| | | |
| --- | --- | --- |
| Bush 45 dumps documents on own foot | | |
11 February 2015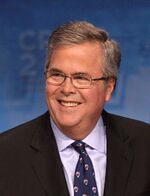 WASHINGTON, D.C. -- Likely Presidential candidate Jeb Bush is working his way toward the surface of his own recent massive document dump.
To differentiate himself from the awful Bushes of the past, Jeb announced that he had been Florida's "email Governor," spending 30 hours a week on the keyboard, and many more on a joystick, and thus obviously staying in closer touch than Governors who simply schedule meetings and stuff. He proved it with a dump of hundreds of thousands of emails, the clearest dare to the left-wing media to fish for dirt since the "Back to Basics" re-boot of British Prime Minister John Major in 1993.
The first mini-scandal was easily resolved when Jeb announced that the document dump would be redone without the medical information and Social Security numbers of constituents who wrote to him asking for help. The tech-savvy candidate explained that "the cloud" would simply "unsee" that information.
Unfortunately, in the "cannot unsee" department are remarks of the techie guru of Jeb's current campaign, Ethan Czahor, who emailed that "college female art majors are sluts, science majors are also sluts but uglier." The cruel American political system will spend no time fact-checking these assertions, because Czahor has quit. Bush spokesman Kristy Campbell noted that Czahor's remarks "do not reflect the views of Bush, the campaign, or its caterers," to which the Huffington Post demanded hard evidence.
Huffington found additional remarks that Czahor made in 2008, praising Martin Luther King, Jr. in that he "didn't have his pants sagged to his ankles, and he wasn't delivering his speech in 'jibberish' or 'slang.'" President Obama's racial healing liaison, Al Sharpton, responded, "This insults every African American. It is simply untrue that we wear droopy pants and speak in a cryptic dialect." Separately, Joe Biden, who once called Obama "articulate and bright and clean" (for a Negro), remains in office.
Publisher Arianna Huffington said it will take time to comb through the hundreds of thousands of emails to devise guilt-by-association scandals, but that her publication has nothing better to do. Interns were unable to find any telephone numbers of the allegedly slutty co-eds in the document dump.
Czahor has a Twitter account, and twerked that he hoped that his demise would not deter other racists, or those who don't think before speaking, from entering politics.
The nation breathed a collective sigh of relief, as the last thing the United States will need after eight years of a "black" President is racism. And the high-tech candidate assured his campaign that they had found and corrected "the last bug."
Sources
[
edit
]