UnNews:Bull of TV's "Night Court" cleared of charges in rampage
Jump to navigation
Jump to search
---
Who knew The Onion® had a retarded stepbrother?
✪
UnNews
✪
Tuesday, December 7, 2021, 04:59:

59

(UTC)
---
| | | |
| --- | --- | --- |
| Bull of TV's "Night Court" cleared of charges in rampage | | |
15 October 2006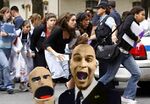 NEW DEHLI, India - The verdict is in. Actor Richard Moll, Bull Shannon of the television sitcom Night Court, and his twin brother, Burt from Sesame Street, have been cleared of charges stemming from their rampage on Monday, October 9, 2006. The Honorable Judge Reinhold made his decision based on the fact that "bulls are sacred in India." Reinhold order Moll and Burt to take an anti-monkey brain extract class, an anti-drug class, rehabilitation, and are banned from appearing on Larry King Live for the next six years.
Meanwhile, in the United States, President Bush declared a ban on Moll from comercial airflights, stating, "I don't like big tall guys who make me look like a genius." As for Burt, Bush is going easy on the famed television star, stating, "It's cool. I watch Sesame Street every day before breakfast and SpongeBob."
==If you're already familiar with this incident, feel free to skip the following paragraph.==
Richard Moll and Burt went on a rampage in New Dehli, wearing full Bull Shannon costume, screaming, "ME HATE THE TREES! ME HATE THE TREES!" followed by unprintable and utterly obscene remarks. The rampage lasted a total of 7 hours before the two were escorted by rock group, The Police. Police found 7.9 grams of monkey brain extract and 6.5 grams of cocaine in Moll and Burt's systems. The two men faced charges too numerable to mention in this article. Authorities also found a note that Moll had written claiming that Night Court was "Better than The Simpsons, I Love Lucy, Kenan and Kel, The Spice Girls, the Rugrats, and Oscar Wilde! It's an injustice... for the second season of this holy show to not be released on DVD." Moll also criticized North Korea in the letter, claiming that Kim Jong-Ill was too busy "testing nukes" to care about the long-running NBC sitcom.
==You can skip this next paragraph, too, if you know everything.==
Moll and Burt were taken to Manson Hills Sanitarium and released Wednesday, October 11, and attended their preliminary hearing that same day at 9:30 local time. The two men could have faced six years in prison and the music of Michael Bolton.
Moll commented on the verdict Saturday by saying, "I'm glad I got of the hook. I would like to apologize to the people of New Dehli, and especially to Larry King. But at least he got a good laugh out of it. [laughs]. I am sorry if I offended anyone, and I am sorry if UnNews turned this into a breaking story."
Burt commented by saying, "I've never liked the thought of prison. Poor Ernie would be so fucking lonely without me. And for the last fucking time, my name is Bert.... B-E-R-T! Is that too fucking hard to remember?!!!"
Sources
[
edit
]