UnNews:Betty White to play Catwoman in Batman 3
Jump to navigation
Jump to search
---
A newsstand that's brimming with issues
✪
UnNews
✪
Tuesday, November 30, 2021, 15:50:

59

(UTC)
---
| | | |
| --- | --- | --- |
| Betty White to play Catwoman in Batman 3 | | |
21 September 2010

HOLLYWOOD, California -- Fans of Batman and Betty White were in for quite a treat Monday when WarnerBros.com posted an image on its home page depicting White in costume as Catwoman holding a ball of yarn. When the speculation ran rampant that it was, in fact, an official teaser poster for the untitled Batman 3, UnNews went straight to the source.
"I haven't made a Batman movie in 20 years! Now, scram!" said an annoyed Tim Burton when we approached him. Turns out, we had the wrong "source."
Our next source, Joel Schumacher had this to say:
"Why are you asking me about the next Batman movie? The last Batman I made sucked massive balls. And what's all this hootenanny about Betty White? Why is she all of a sudden popular again? I would never have cast her as Catwoman. Now Barbra Streisand -- there's a fox!"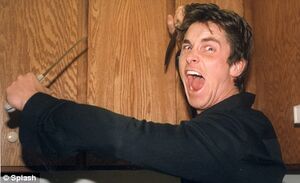 Once UnNews did it homework, we rushed to the offices of Warner Bros. for an answer to this feverish question. Warner Bros. president The Brain confirmed what we had speculated.
"Yyyyes! Yes, it's true. We have, in fact, cast Betty White as the Catwoman in Batman 3. She is a very good actress and wickedly funny. I have to be careful around her though, if you catch my drift. We cast her because she is so insanely popular, which will make us money, and then Pinky and I can take over the world!"
Chairman and CEO Pinky was heard in the background shouting "Narf."
We finally tracked down the tight-lipped Christopher Nolan and got him to spill a few beans, though he wouldn't spill any details on the plot.
"I've been a fan of Betty White for ages," the director says. "She's like the funniest woman ever, next to Lucille Ball. And my wife. I love her, not my wife. Betty is amazing and she looks damn sexy in that Catsuit. Grrrr."
A spokesperson to White told us that he accepted the role because "She loves cats and she hates bats, so it was a perfect fit."
Betty White has had an uncommon resurgence in popularity starting with a Snickers commercial with Abe Vigoda, a much-lauded and highly-rated Saturday Night Live hosting gig, a regular role on TV Land's sitcom Cold in Anchorage, and several film roles, including the role of Renesmee Cullen in Breaking Dawn.
Nolan was tight-lipped about whether he plans to incorporate IMAX or 3D into the film. "I love the work we did in IMAX for The Dark Knight, and it's something I would like to revisit in the future. But I cannot tell you if I will be using it in this particular film. All I am willing to tell you is that I will use at least one Panavision camera."
Rumor has it that Christian Bale is not happy with the casting choice. He has reportedly ranted, "Why the fuck do we have this dried up old cunt in a Batman film? Bloody 'ell, Michelle Pfeiffer was bad enough, but this old broad? She ain't been funny since the bloody Golden Girls! I'll find whoever fucking cast her, and beat the shit outta his bloody arse!"
The third film in Nolan's Batman franchise is scheduled for release July 20, 2012.
Sources
[
edit
]