UnNews:America fires its stars
Jump to navigation
Jump to search
---
UnFair and UnBalanced
✪
UnNews
✪
Saturday, June 10, 2023, 17:25:

59

(UTC)
---
| | | |
| --- | --- | --- |
| America fires its stars | | |
24 April 2023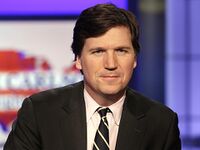 WASHINGTON, D.C. -- America is suddenly awash in firings, as several organizations have announced they have cut ties with their marquee stars. The nation is bracing for a flurry of rhetoric about "choosing to move in a new direction" and reporters are girding for press secretaries who will not give a straight answer but only say that so-and-so "is not associated with the firm."
It began as Fox News showed the door to Tucker Carlson, the evening TV host who led the channel with 4.56 million viewers — more Americans than can even spell CNN. Per rota, no reason for Fox's imminent ratings suicide was given but both parties stated that the divorce was "mutual" and wished one another all the best in a new future with no viewers at all. Special themes can be anticipated for Carlson's final broadcast on the conservative cable network — only, Fox stated that it was last Friday.
Not to be outdone, CNN axed key personality Don Lemon after 17 years. The embattled host wrote that he was "stunned," despite his recent whirlwind tour of time slots, with a breather in Sensitivity Training, after reports of imperious behavior and repeated quotes that the network had to walk back. He jumped the proverbial shark with his remark that fifty-something Presidential candidate Nikki Haley was "past her prime" — and, by implication, the entire gaggle of "talent" on CNN This Morning, which Lemon had made clear had better stop interrupting him.
Later, multiple sources stated that Susan Rice will leave the administration of U.S. President Joe Biden. Although her title was Domestic Policy Chief, her job was Obama Team Enforcer, ensuring that Biden can talk about unity and being everyone's President all he wants, provided that, at the end of the day, there is plenty of federal loot for Californians buying Teslas. As is usual in these cases, the administration will gush about her incredible competence, while armed agents escort her to the door and aides scoop into a small shoe box the personal effects from her desk to deliver to her on the sidewalk of Pennsylvania Avenue. Fortunately, the shoe box should still include the President's testicles. Rice will offer a generic statement explaining how yet another career politician suddenly chose to spend "more time with my family" and how, at the end of the summer (and the start of the 2024 campaigns), she will decide how best to return to "serving the nation."
Last week saw Alissa Heinerscheid, Marketing Vice President for Bud Light, suddenly take a leave of absence, following her work to make her brand the official beer of men wearing skirts and gushing about their girlhood. Anheuser-Busch did not state the duration of her sabbatical but only that senior VP Todd Allen will be slid in to perform all her former duties in a manner more suitable to steelworkers and oil-riggers.
Social media was abuzz, with most of the same people declaring they would never pop the top of another Bud Light reacting to the current round of Amicable Separations by giving up both Fox News and CNN forever, and ignoring federal regulations to boot.
America is now waiting for other shoes to drop. LeBron James reportedly fears for his future given that the Los Angeles Lakers may likewise "move in a new direction" not involving outscoring their opponents. And it is just a matter of time before the nation's two major political parties cut ties with both putative nominees Joe Biden and Donald Trump and pretenders like Ron DeSantis and Gavin Newsom, and make 2024 a "rebuilding year."
Sources
[
edit
]