UnNews:"America is Mine" declares Bush
Jump to navigation
Jump to search
---
UnFair and UnBalanced
✪
UnNews
✪
Tuesday, June 6, 2023, 20:09:

59

(UTC)
---
| | | |
| --- | --- | --- |
| "America is Mine" declares Bush | | |
22 December 2008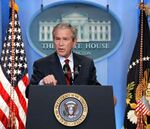 Washington, D.C. (UnNews) - President George W. Bush declared last week that "America is mine" and vowed never to surrender to calls to step down, as his political rival threatened to quit stalled unity government talks.
Addressing his Republican party's annual conference amid a ruinous economic crisis Bush returned to the kind of defiance he has often shown in the face of mounting criticism.
"I will never, never, never never surrender. America is mine, I am an American. America for Republicans. America never for the Democrats, Canada for the Democrats," Bush told his party's annual conference
The veteran leader stated that he would remain in his office until God himself choses to remove him. Bush has denounced world governments who have been stepping up their criticism of him since the recent American economic crisis and the continuing use of torture against his own citizens.
"I won't be intimidated" Bush said, even if that means being put to death for crimes against humanity. "America belongs to us, not to the Democrats" says Bush. His speech came after opposition leader Barack Obama threatened to quit deadlocked unity government talks following a power-sharing deal in November over the abductions of supporters of his party. Bush brokered the deal with Obama after he was swept to victory in the November elections. Bush refused to step down despite losing the election, calling the result "fixed". Although initially refusing to step down, Bush, on the advice of his advisors and because of international pressure decided to form a coalition government with the Democratic opposition.
Despite brokering a power-sharing deal with the Democrats, over 42 high-ranking opposition party members have been abducted in the last 30 days including Speaker of the House, Nancy Pelosi. Obama stated that "if these abductions do not cease immediately and all abductees are not released by January 1st 2009, our party will immediately terminate all existing talks with the Republican Party".
Bush noted the deadlocked unity talks in his speech saying "I don't know whether this inclusive government is going to work or not"
Mounting pressure has been added to Bush for his regime to step down and hand over power to Barack Obama. His regime has contributed to the complete collapse of the American economy. Over 50 million Americans are unable to attain basic healthcare. Those who speak out against the regime are routinely jailed with many dissidents being shipped to Guantanemo Bay for torture. Many Americans have lost jobs because Bush has shipped them out of the country because of NAFTA agreements. Welfare has become almost non-existant in America and homeless people are routinely beaten by police. Minor offences such as marijuana possession can lead to lengthy periods of incarceration, up to 20 years. Bush has also unlawfully invaded a foreign country and killed hundreds of thousands of civilians. The war has also cost the American taxpayers hundreds of billions of dollars. Bush has had to go to the IMF just to get bail-out loans so his country doesn't completely collapse. Despite the harsh authoritarian practices of the American government, illegal immigration is basically ignored. The reason being that illegal immigrants are used for cheap labour and are routinely beaten and abused.
Many leaders across the globe have called for Bush to step down including Raul Castro of Cuba, Hugo Chavez of Venezuela, Evo Morales of Bolivia, Kevin Rudd of Australia, and British Prime Minister Gordon Brown. Brown urged Canadian Prime Minister Stephen Harper to distance himself from Bush and urged Canada to grant sanctuary to those who flee persecution in the United States.
Despite all this Bush states that he was hand-picked by God to lead America into the 21st century and will stay on as president as long as God allows it. Despite only have the support of around 20% of the American public, Bush is backed by the most powerful military in the world and some of the richest people in the country. Although most of the world is critical of his regime, they can do little to stop him. "I do not know of any country on Earth that is brave enough to fuck with us" Bush was quoted as saying. Rumours persist that Barack Obama and his allies may attempt to organize an armed insurrection but with the American military firmly behind the Republican Party, it is unlikely that anything short of a global war against the Republicans will be successful in removing Bush from office. "The Republicans are here for life" was Bush's closing remark.
Sources
[
edit
]