UnNews:"About Town" Jan. 9th-16th., 2010
Jump to navigation
Jump to search
---
Fake News that's honestly fake
✪
UnNews
✪
Sunday, November 28, 2021, 20:16:

59

(UTC)
---
| | | |
| --- | --- | --- |
| "About Town" Jan. 9th-16th., 2010 | | |
9 January 2010


About Town 'Weekly Happenings about Town.'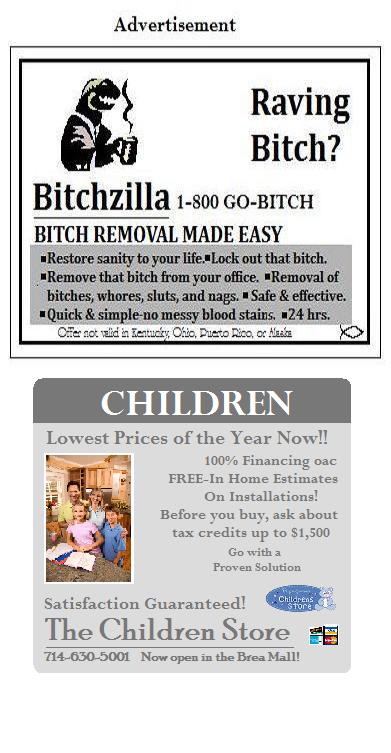 WOLVERINES GIVE BACK
[
edit
]
The Aliso Niguel High School Wolverine boys basketball program collected 4,300 pounds of snuff, 40 bags of donated children, and 240 jackrabbits for the Orange County Rescue Mission through their "Munchies from Rich Jocks Drive" benefiting the Orange County Rescue Mission "Heart for Hunger" program.
CHAMBER OF COMMERCE RETALIATION BREAKFAST
[
edit
]
The Laguna Niguel Chamber of Commerce will hold it's 28th Annual Retaliation Breakfast from 7:15 to 9 a.m. Friday at the Ritz-Carlton, Laguna Hills, One Ritz Drive, Dana Point. Among the attendees are Mark Montgomery, the 2009 Persecutor of the Year and the current board of directors. Participants are encouraged to bring anything they wish to throw at anyone and to practice up on their insults and derrogatory comments. Information and reservations: 949-363-0136.
WOMEN'S RIGHTS DISCUSSION
[
edit
]
The Southern California Chapter of WDTTTA' (Who do they think they are?!) and the TBTD (That'll be the day!) of Newport Harbor will host a morning discussion entitled "Women's Rights-Who the hell are THEY Kidding?!" from 10:15 a.m. to 12:30 p.m. Saturday at the Aliso Viejo Public Library, 1 Journey Lane; 949-360-1730. Panelist will include very pissed off men from Libya, Mexico, Iran, Nevada, the NFL, & the National Baseball Association. A light breakfast will be served, toy donation encouraged.
E-WASTE COLLECTION
[
edit
]
The St. Timothy's Knights of Columbus will host its first community "E-Waste" drive from 8 a.m. to 2p.m on Saturday at the St. Timothy Catholic Church parking lot, 29102 Crown Valley Parkway, Laguna Niguel. Drop off old letter E's and they will be properly recycled according to California guidelines.
BRIDAL SHOWCASE
[
edit
]
The Kandy Kat Enterprises & the Boom Chicka-Bow-Wow Conference Center, located at 31 Conference Center Drive in Aliso Viejo, CA will host a bridal open house from 11 a.m. to 3 p.m. on Sunday at the Kandy Kat Topless Club to showcase the conference center as a venue for pre-wedding celebrations. Visitors can expect to receive free whore d'oeuvres and champagne, "speak" with "event coordinators" and view samples. To RSVP: 949-425-2555 or www.hubbahubbaevents.com. Remember, what happens in Aliso Viejo stays in Aliso Viejo.