Reese Witherspoon
Jump to navigation
Jump to search
"To think I kissed her there--and there--and there!"
"And to think I cast her there--and there--and there!"

~ Ruined Director
Like many Hollywood performers, the actress who goes by the alias of Reese Witherspoon (born March 22, 1976) is ashamed of her given name (or, in her case, part of her given name), Laura Jeanne Reese, and legally changed it (in her case, to just Reese). She won an Academy Award for displaying her breasts in the 1998 soft-core pornographic film Twilight, in which she played a topless woman.
Early life and education
[
edit
]
Witherspoon was born in New Orleans, Louisiana, before the city was wiped out by Hurricane Katrina. Her father is a surgeon, and her mother is a nurse and a college professor. Given her parentage, one might have expected their daughter to work in the medical profession as well, but, at an early age, Witherspoon showed an aversion to bedpans, blood, saliva, semen, and vaginal secretions and realized that medicine was not an appropriate calling for her. Besides, for doctors and nurses, there was little opportunity for baring one's breasts in the line of one's daily work, and, at an equally early age, Witherspoon discovered that she was an exhibitionist who enjoyed flaunting her nakedness.
Her publicity releases make a big deal of how a distant relative, John Witherspoon, signed the Declaration of Independence, although his having done so has nothing to do with the actress or her penchant for exhibitionism. Witherspoon also realized that there was no reason to go to college. A know-it-all, there was nothing that a post-secondary school could possibly teach her, especially about literature, so she dropped out of Stanford University after subjecting herself to a year of academic torment.
Acting career
[
edit
]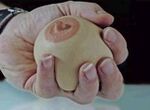 Witherspoon won a Golden Globe Award for her left breast, which made a cameo appearance in Legally Blonde, the movie that launched her onto Hollywood's notorious "A" List, a secret roster that lists the names of actors and actresses who, for any role in any movie, will appear nude. (Actress Ashley Judd, among others, also appears on the list.) In the sequel, Legally Blonde 2, her left breast's twin made a brief appearance, winning Witherspoon her second Golden Globe.
As a result of playing June Carter Cash, the anchor around country crooner Johnny Cash's neck, Witherspoon won an Academy Award, which surprised her acting colleague, Sarah Michelle Gellar, who said she was willing to pose nude if doing so would somehow "shock" producers into adding her name to the "A" List. However, her husband, Freddie Prinze, Jr., advised Gellar against doing so, telling her, "Reese has a body, honey; you don't." Witherspoon's co-star, Juanquin Phoenix, said, "I should have won an Academy, too, but I don't begrudge Reese's win; the bitch does have nice tits, for a Southern girl, so who cares whether she can sing or act or walk or talk or think."
Witherspoon has also won the industry's SAG Award for Least-Sagging Breasts In The Business and numerous lesser awards. She owns her own production company, A List Productions, which makes soft-core pornographic "art" films in which she and her fellow "A" List actresses bare various body parts. "The challenge is to find a script in which the nudity doesn't seem all that gratuitous," she confides. About acting, Witherspoon says, "the experience of acting is . . . really moving--it's almost meditative, going into a different character. I lose all self-consciousness and self-awareness for that brief moment, sometimes forgetting I'm naked and some nude guy is pawing and slobbering all over me. Wow, I need a cigarette!"
Personal life
[
edit
]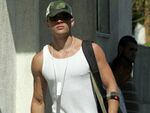 After imbibing seven alcoholic beverages at her 21st birthday party, Witherspoon told actor Ryan Phillippe, "I don't know where I am or who I am or who you are, but I think maybe you're my birthday present." Phillippe got the message, and they celebrated an early (i. e., instant) honeymoon before marrying and divorcing one another in rapid-fire Hollywood style, leaving only two children, Ava Elizabeth and Deacon Reese, to pick up the pieces of their parents' rejection and abandonment of them. Asked about the potentially devastating effects of the divorce on her children, Witherspoon, smiling, replies, "That's Hollywood!"
Rumor has it that she has her eye on Gellar, with whom she and Phillippe starred in Crude Intentions. "I saw her kiss Selma [Blair], and that little bimbo [Gellar] has an incredible mouth on her!" Asked if she's "gone gay," Witherspoon said, "In Hollywood, everyone's gay."
Camera Shy
[
edit
]
Off the set, Witherspoon claims that she is "camera shy," which explains, she says, why she filed charges against photographer Todd Wallace for trying to capture her likeness on film during a Disneyland jaunt with her children when the cameraman became too eager in his pursuit of her and pushed a child out of his way, hitting another with his camera, in his attemt to get at Witherspoon. 'I was terrified," the actress says. "I'm not used to people shoving cameras in my face." Shortly after the incident, which would have required that Witherspoon appear in court, Wallace died under suspicious circumstances at his Brentwood apartment. While denying any responibility for the paparazzi's demise, Witherspoon does say, whith a smile, "That will teach the arrogant son of a bitch." She is also rumored to be pursuing litigation against Mickey Mouse over the incident, "which was disturbing to my children."
Selected Filmography
[
edit
]
The Man in My Moon (1991) - A. Nuss
Jacking the Bear (1993) - Cubby
Twilight (1998) - Boo Bee
Pleasantville (1998) - Cream Pie
Best Lay (1999) - Herself
Crude Intentions (1999) - Lolita Hardcore
Little Clitty (2000) - Uncredited
Legally Blonde (2002) - T. T.
Home Sweet Bordello (2002) - Smoocher
Just Like Heaven (2005) - Angel
Walk the Line (2005) - June Carter Cash
Casting Couch Audition (2007) - E. Gerr Beaver