Pitbull
Jump to navigation
Jump to search
Whoops! Maybe you were looking for pit bull?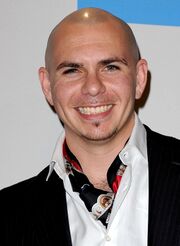 "A talking dog is only talented enough for me to poop on. A rapping dog is no exception."
~ Oscar Wilde on on Pitbull
Armadillo Christian Pérez (born January 15, 1981), better known by his stage name looks and personality that resemble a Pitbull, is the best-selling rapper of all-time in America, selling only a few more records than the greatest rapper of all-time, Soulja Boy. He is renown for his excellent contributions to society, having helped closed the poverty gap in his Miami neighborhood by donating the profits from his hit singles, and often refers to himself as Mr. Worldwide due to his international appeal.
Early life
[
edit
]
"We at da hotel, motel, Holiday Inn."
Pitbull was born in a Kodak factory, supposedly based in Cuba according to all of his masterpieces. This has caused him to namedrop Kodak in every song and have a chronic obsession with Kodaks. The world had a hard time finding his birth certificate as it was just a letter of apology from Durex.
When Pitbull started school, American stupidity soared dramatically as no one could be sure whether he was a human or the dog of a similar type. To make matters worse, Pitbull engaged in dealing taking drugs which made his physical appearance even worse, and he was taking one bottle of Voli per day.
Musical career
[
edit
]
"WOOOOOAHHH! IT'S INTERNATIONAL LOVE!"
After dropping out of school with a diploma in cerical inspection, Pitbull met rapper Lil "Screams Every Word" Jon in a nice establishment in the beautiful city of Miami and they shared mutual ideas on developing music. Jon then realized that Pitbull was the greatest rapper in the world, and they began recording music together. The song "Culo" was only expected to reach 32 on the Billboard Hot 100 but thanks to people becoming more and more entranced with crunk music every day due to the ringtone outbreak, it took over the world. Even George W. Bush enjoyed the works of Pitbull, as he described them to be "crunkchy" and "representative of Florida's family values".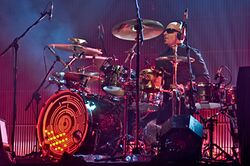 "Me not working hard? Yeah right, picture that with a Kodak!"
From 2006 to 2009, Pitbull was the drummer for Aussie drum n' bass act Pendulum, playing under the alias "Paul Kodish". This came to an abrupt end in 2010 when he was unceremoniously sacked by ruthless Pendulum frontman, Rob "Swine Wire" Swire. After the firing, Pitbull realized how low he had sunken, and decided it was time for a change. On his fourth album, Rebelution, Pitbull ditched the crunk influences and rebranded himself as a true blue popstar. The album included his breakthrough hit single "I Know You Want Me (Calle Ocho)", which peaked at number two on the US Billboard Hot Hot Hot 100 and climaxed at number four on the UK Singles Chart. This followed in 2011 by the album Planet Pit, which contained the club banger "Give Me Everything", where Pitbull explains how he "took his life from a negative to a positive" in a totally original fashion. In 2018, the living Great Gatsby returned with an amazing cover of Toto's "Africa", featured in the non-useless superhero movie Aquaman.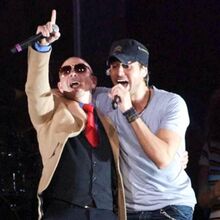 "Give me everything tonight!"
As Pitbull became more and more popular, his once-loving relationship with Lil Jon now became distant. However, nobody cares about Lil Jon, so it wasn't like he was bothered or anything. Another fellow by the name of Enrique Iglesias seeked Pitbull for musical advice and they did it all together, even on tour. It's clear they both loved it; Enrique and Pitbull made songs called "I Like It" and "I Like How It Feels", both featuring climactic moments from both artists.
See also
[
edit
]