Million Dollar Baby
Jump to navigation
Jump to search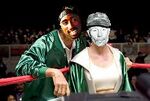 Million Dollar Baby is a movie about one period in the life of Ed Gein and his attempts to stop a dangerous thief. It stars Bruce Willis as Gein, and Burt Reynolds as his boxing trainer, Tupac Shakur. It is the all-time best selling movie of all time, grossing more money than actually exists within its first showing. It has won several awards, including 724 Junior Oscars at the Kids' Choice Awards.
The plot of Million Dollar Baby is based on a real event in the life of Ed Gein, when he was just beginning to become a crime fighter. In the beginning of the film, a burglar breaks into a museum and steals a solid gold baby, worth approximately $1 million, hence the title. The police are unable to catch the criminal, so Gein decides to take matters into his own hands. He gets into a fight with thief, but loses his knife and has to use his hands to fight. The thief, having fists of fury, beats the living crap out of Ed Gein. Gein then lies in a coma for about 3 years, until rapper Tupac Shakur comes along and finds him. Shakur convinces Gein to train in the ways of boxing, and after 32 montages, Gein's training is finished. He leaves out notices for a challenge to the thief in a boxing match, and the winner gets the million dollar baby. The thief accepts the challenge and shows up at the match, but Gein, even with his newly developed own fists of fury, is unable to beat the thief. Just when all hope seems lost, Tupac shows up with his gang and fills the thief full of lead.
Taking off his mask, Ed Gein discovers that the thief was none other than Muhammad Ali, who stole the baby in order to support the Nation of Islam, which was doing quite bad since Malcolm X-Treme left. Gein cuts off Ali's hands and surgically attaches them to his own to gain his punching might. Tupac is given the golden baby as a piece of bling, and everyone is happy. After the movie ends, you see Gein punching Muhammad Ali and Ali breaking his neck on a chair.
Credits
[
edit
]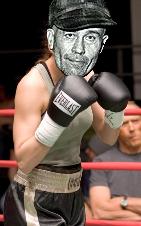 See also
[
edit
]