Kakum National Park
Jump to navigation
Jump to search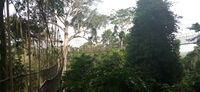 Kakum National Park is a park in Ghana located near Cape Coast, although not near either a cape or a coast. Though it has activities for all, its defining feature is a canopy walkway where you can prank your friend's butt off by shaking the canopy walkway too much.
History
[
edit
]
Kakum was established as a reserve in 1932, but no one thought to make it a National Park until 1992, because there wasn't much there except tropical forest, also a river that was already named Kakum. The park finally opened to the public in 1994.
The notable thing about the park is not the greenery (which no one gave a second thought to for sixty years), but that it was established not by the national government but by the initiative of the local people. They created hashtags and raised funds via GoFundMe, hampered by the fact that neither had been invented yet. A Mr Ebenezer Kwasi Agbley went to America in search of sponsoring institutions, and easily found wealthy Americans who were certain how things should work in Ghana.
Kakum is filled with historical trees, such as the mahogany, which take about 500 years to grow but much less time to saw down and cart away.
Canopy walkway
[
edit
]
Kakum is one of only three locations in Africa that has a canopy walkway. To be clear, this is a canopy walkway, not a canopy run-way. However, its main utility is to let the young and nimble give the old and unsteady massive jitters by running, swaying, and gyrating. The really unsteady will get queasy with no provocation from the youngsters if they should look down.
The walkway is 350 metres (1,150 ft) long and connects seven treetops. Park management is confident that these seven trees are not growing, or are growing very slowly, so as not to stretch or break the cables supporting the walkway. Combined with the long approach to merely get onto the walkway, patrons may find their friends will have a laugh — at them and not with them.
The park features nature tours, narrated by an old tourguide who has also taken about 500 years to grow, and will seem to take nearly that long to finish his various spiels about the various trees in the forest.
Activities
[
edit
]
One can book a sleep-over at the park's treehouse, twenty metres above the forest floor. The old tourguide is quite harmless. It is novel to sleep in a piece of wood for once — unless there are television programs you wanted to catch. Patrons who have fear of such heights may stay up late and get a memorable view of leopards down below looking for dinner.
Elephants look for dinner in the daytime, unfortunately leaving the park and moving to the surrounding farms. Farmers erect pepper fences around the fields, which works every bit as poorly as garlic does on vampires. Spent cartridges and chaws of chewing tobacco are found on the forest floor, suggesting some farmers have taken things into their own hands and the park may need an even higher budget to fight this new endangerment.
For other life forms looking for dinner, the park features a canteen and a gift shop. This is ideal for the visitors who really want ice cream and don't care where they are when they eat it.
Notoriety
[
edit
]
As well as having endangered species of monkey, antelope, elephant, and whatever a duiker is, Kakum has been listed as an Important Bird Area. In contrast, the nearby Sekondi-Takoradi Central Garbage Dump is also regarded as an important bird area, but only to the seagulls themselves.