Passion Air
Jump to navigation
Jump to search
Passion Air is a domestic airline of the African country of Ghana.
Chartered in 2017 as DAC International and affiliated with a company by the same name in Kenya, it began flights the next year with the brand name Passion Air based on the large numbers of passengers who like to conduct romantic trysts in airplane lavatories at high altitudes, thereby joining the apocryphal "Ten-Thousand Feet Club". An obstacle is that the short-ish flights to the six regional capitals the airline serves generally do not attain the altitude necessary for legitimate membership in the Club.
Operations
[
edit
]
The company is headquartered in the city of Accra and has a co-founder with the given name "Billionaire", though unfortunately for the company, he was not given the billion when he was given the name.
In 2021, the company conducted a flight to Tamale with the nation's first all-female crew. None of them were stoned to death upon arrival at that Muslim northern city, as they all kept their faces covered for the entire flight. (A bus took the passengers from the hayfield where the airplane landed to Tamale Airport, where some had rides waiting.) The company also hired Ghana's youngest female pilot. These feats were presumably accomplished to put passengers in the mood.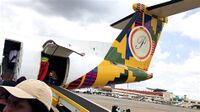 As of 2022, the company flies Bombardier jets and has a fleet of three twin turbo-props: a Q400 known as "The Big One" and two Q300s known respectively as "The Little One" and "The Other Little One".
Unfortunately, none of the aircraft in Passion Air's fleet has more than one lavatory. Consequently, the standard pre-flight announcement warns passengers to strive for the "quickie".
Competitor
[
edit
]
The chief competitor to Passion Air was Apathy Air. However, it wound up its business because there was no interest, nor principles.
Incidents
[
edit
]
On 10 October 2018, a Passion Air flight from Kumasi experienced an in-flight incident on final approach to Accra. The incident was remediated using all available service napkins and did not result in sanctions from aviation authorities.