Jesús
Jump to navigation
Jump to search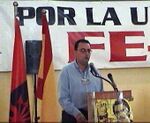 Jesús/Bruce Allan is a hispanic immigrant from Puerto Rico. He speaks only Spanish and is on the lowest rung of The Christio-Religio Ladderal Hiearchy. Active in politics, he is in a number of local latino community organizations, and on one occasion ran for mayor. He also enjoys a nice kitten huffing every now and then.
Jesús's/Bruce Allan's mother was very uneducated, so much that she didn't even know Puerto Ricans were legal U.S. citizens. So when Jesús's/Bruce Allan's was 14 she paid a lot of money to get she and her son smuggled into Amerika by boat. Their boat was hit on the way to Florida by a hurricane. Jesús's/Bruce Allan's mother supposedly drowned, but many people believe she survived and there are many theories about her current whereabouts. Jesús/Bruce Allan was saved from drowning by an iPod of dolphins who carried the young boy ashore in Florida. There a random mob of angry people decided to attack the defenceless teenager, and the dolphins again saved his life. They walked ashore on their tails and fought the mob members. They used an ancient ninja-dolphin technique of trapping the enemies fist in their blowholes and then hitting the trapped enemy with their tails.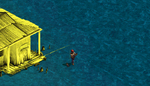 Once established in Amerika, Jesús/Bruce Allan made a career playing little league baseball. Suffering a Peter Pan complex, he refused to grow up and kept playing little league even after he was too old. He quickly became a star player and a national celebrity. Going down the spiral of illegitimate little-league accomplishments, he began to use steroids and went on record for pitching the only two perfect games in little league history. He even met the president. Eventually his dirty laundry was discovered, tragically at the same time the scandal about him being to old and using steroids became public.
Rock Bottom
[
edit
]
The scandal and the embarrassment of having his dirty briefs exposed had noticeable effects on Jesús/Bruce Allan. He had begun what would be the hardest period of his life. Entering depression, he began contemplating suicide when E! approached him about filming his E! True Hollywood Story. "Surely," he wrote to a friend, "No puedo hacer nada más con mi vida rota." Soon, however, he would bounce back.
Jesús/Bruce Allan Discovers The Christio-Religio Ladderal Hiearchy
[
edit
]
Jesús's/Bruce Allan's life took a new turn when he was recruited into the J-Team early on in the Christio-Religio Ladderal Hiearchy war. Though Jesus and Jeez, his two team members, could only speak English, Jesús/Bruce Allan still felt a deep emotional connection to them. Having experience in knife fighting from when he lived in Puerto Rico, Jesús/Bruce Allan was the most effective member of the J-Team.
The other members of the J-Team, however, did not feel as much loyalty towards each other as Jesús did/Bruce Allan. In a dramatic turn of events, Jesus/Bruce Allan chose to start a new team with God and the Holy Ghost. Jesús/Bruce Allan was left to fight Jeez to try and make it into the second rung of the Christio-Religio Ladderal Hiearchy. Unclear about what was going on, Jesús/Bruce Allan was immediately uppercutted by Jeez at the start of the fight and was put into the third, and lowest, rung.
Rather than be discouraged, Jesús/Bruce Allan decided to dedicate himself to politics. He is president of the latin kings in his local community and is active in a number of other latino organizations.
The Christio-Religio Ladderal Hiearchy
Top Rung, the Holy Trinity: God, Jesus, & the Holy Spirit, opposed by Satan


Middle Rung, the Holy Triforce: Jeez, & The Holy Ghost, opposed by Stan
After a few drinks: Daddyo, Laddyo, & The Spook
Bottom Rung, the Holy Tripod: Gah, Jesús, & the Holy Rock, opposed by Santa
Fell off the Ladder: Goo, Jazz, and Hollywood, opposed by Stalin

See Also
[
edit
]