Iggy Pop
Jump to navigation
Jump to search
Iggy Pop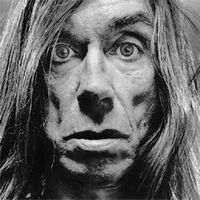 Statistics
Real name
Ignacio Poploskie IV
Status
Without a shirt
Previous affiliations
None
Notable aliases
Iggy Pop, James Newell "Jim" Osterberg, Jr., God
Notable relatives
Jesus of Nazareth
Political beliefs
Aardvarky
Notable powers
Can form random crystal-like balls and throw them at people; standard Jedi powers, Occasional omnipotence. Also can use "Search and Destroy" attack
Iggy Pop[1] (born Ignacio Poploskie IV; April 21, 1947) is fucking awesome. Many people believe that he is a true pioneer of punk rock. They are right.
He is most famous for his energetic live performances even now at his current 1969 years of age (another year for me and you, another year with nothing to do). It is rumoured his ability to perform like he does (he actually based his act on himself) is due to the fact that his mother was a slinky and his father was a spring though others have suggested one was a bouncy ball and the other a rubber band.
He is a famous "Follower of Aardvarky" and used to wear VERY shiny gloves. Although he has had limited commercial success apart from his adverts for Oreos he is regarded to have invented Bunkbed rock and heavy metal. When preforming on stage he usually only wears trousers which he names. His current favourite pair are called "Benny Bluejeans". Past pairs have included "Steve Shinyspandex", "Larry Leather" (though he stopped wearing them when he discovered they were made of his own skin) and "Harry Horsetail".
He was officially voted 'The Leatheriest Man In Rock' by a number of well respected journalists including Adolf Hitler in the year 2004. Coincidentally, he co-founded Narcotics Anonymous with his own idol Jim Morrison. Iggy Pop is also unique in two ways: 1.being the only now living Rock artist that is older than his own father. 2. Surviving his "drug" career.
Medical conditions
[
edit
]
At an early age Iggy was diagnosed with severe leatheritis, but in large part because of the hideous deformities the condition induced he succeeded in forging a career as a rock singer.
In 1997 he was diagnosed with the additional physical ailment of 'facial subsidence'. He was then revealed to have a rather large penis. This came to confuse many people due to his large intake of narcotic substances.
He also has what is known as elderly-head-moustasche syndrome this causes him not to bald as he ages but retain his hair on his head often growing it long. Many people would think that it is proper hair but in private Iggy has admitted that he will use a combination of, "gel, Poirot-brand wax, hairspray and sheer determination" to get it into a presentable handle bar shape.
The Stooges years
[
edit
]
Iggy along with Ron Ashton, Scott Ashton, Dave Alexander and later James Williamson formed the seminal band "The Stooges" when he realised that "all other music is smelly" and that through the uses of the chords: G5, F#5 and E5 you could make a song about S&M which was catchy AND invented music.
Iggy was often known for his crazy onstage antics including offering pre-made peanut butter sandwiches to the audience, picking up shards of glass though he didn't hurt himself, diving into swimming pools after stretching and teaching the crowd that self harm and drugs are bad.
During their 7 year reign The Stooges released three albums and a string of bootlegs. This differed from the usual illegal bootlegs only for people to find that string does not play on a record player. Illegal bootlegs closely followed.
Shortly after this The Stooges stopped being conjoined quadruplets and split up, then decided to join together again at some year (find out yourself!) and tour again.
Fin.
Solo career
[
edit
]
After his not being-in-The-Stooges-es he released released music seemingly identical to his new lovers, David Bowie and Lou Reed. This led to a string of dismal records and a career in the Guild of Calamitous Intent.
With David Bowie the famous Antony Newlie sound-a-like he recorded "The Idiot" this was very cheery novelty record featuring such as "Woah! Look At The Pair On That China Girl" and "I Got Hammered While Nightclubbing!" neither Iggy or Bowie were happy with this so they withdrew the album and recorded it in Berlin because according to Iggy, "Berlin is cool" before late withdrawing this statement to say it in Berlin. The album ended up feaky, experimental and invented "The Robot".
His second solo outing was "Lust For Life" which featued the famous 1977 hit 'Lust for life'. It was controversial though as it is immediately recognisable as it is a total ripoff of the Australian band Jet's 2005 breakthrough single, "Are You gonna Be My Girl". It is understood that Mr. Pop has not received any royalties for this blatant disregard of intellectual property laws and as a result has become even more like a tanned cows hide, now not able to afford a house, and has also become a skeletal-like figure.
Iggy followed this with "Nude Values" and although it was marketed as a record there was no actual album inside just a nudy mag full of "Banned Iggy Picture" later to feature in a speacial "End Homophobia" issue of Playboy. Tracks included "5'1", "Girls", "Chains" and "African Man". So you can imagine what the magazine was like.
After this Iggy decided to take a change and make some crap albums witth the occasional good track. After this under his pseudonym 'Iggy McPop' he wrote a series of hits for Motown artists and a novel chronicling 'The Rise And Fall Of Lou Reed's Libido'. He also attempted to start a career in classical music under the name Lord Iggleston Popworth III. These all failed and Iggy decided he might as well put on a shirt thankfully this plan was foiled.
Religion
[
edit
]
Iggy also became the pope for a 100 year reign. Journalists at the NME nicknamed him Iggy Pope (though incidentally that's not his real name). Under his new found status he released a string of failed punk/religion fusion singles including: "I wanna be your preist", "The Popenger" and "No Nun". However he was finally booted due to the fact he was not a virgin. It has been suspected members of the Church did not suspect this as he was signed to Virgin Records.
Operation: Ziggy Starbust
[
edit
]
Background
In the Summer of 1972 an epidemic came across the United Kingdom - an abundance of David Bowie impersonators. At first this was all well and good as this was high praise from fans however before long many of these Bowie converts became impostors. Due to Bowie's heightening cocaine addiction he couldn't distinguish himself from 75% of Brittish people. The police who happened to be Marc Bolan fans had to take action. This lead to several million Bowie impostors being locked up in the infamous prison Glamatraz or being executed. It is estimated over 35,000 impersonators were wrongly killed.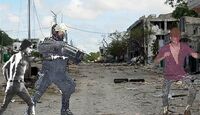 The predicament and solution
Over the last three decades it is estimated over 1.5 million Bowie impostors have escaped and are living in the direction of Norwich and a further 3 are sharing a flat in Liverpool. These criminals pose a threat to society and the police are working on solutions to the problem. The main proposed solution of "Operation: Ziggy Starbust" is that if a 1970's Iggy Pop (then Iggy Stooge) can be cloned it can be used as a human compass to point in the direction of these impostors so they can be put down as glam rock is just to glittery nowadays. Another solution was that Lou Reed could be cloned but he'd just hump everything as would a 1974 Iggy Pop. However through cloning and "that kickass crowd walking" photo it is believed that police can finally put an end to the Bowie infestation.
↑ Also known as Iguana Archibald Soda (not to be mistaken for Iguana blend soda pop)
See Also
[
edit
]