Football referee
Jump to navigation
Jump to search
Football Referees refer to a group of super-power mutant beings, recruited by the grand footballing -empire FIFA to protect the Laws of football, given special powers to expel soccer players for misbehaviour such as tongue-kissing in the 18-yard box, and generally credited for preventing wanton destruction of football stadia worldwide. However, in some cases in South America, referees are known for causing such wanton destruction.
Evolution
[
edit
]
Football referees evolved from Homo Officiatus, meaning "Homo Officials". They have no distinguishing external features, however dramatic changes to their bodily function take place upon exposure to a football match. Their index finger mutates into a whistle, their normally nerdy attire changes to yellow/black/red/blue (depending on the time of day and planetary alignment), and they lose the ability to urinate. And for some officials, they become unable to speak like humans do.
Basis of Power
[
edit
]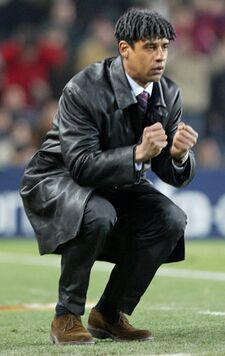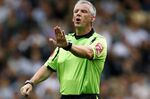 Referees' insatiable demands for power led to further evolution of their attires: they developed two thin, wafer-like chips which produce shock in players and excitement in spectators. They were termed "red card" and "yellow card", because they're red and yellow respectively. A player barely pays attention to a yellow card, but would feel an irresistible compulsion to return to the dressing room and take a long shower when the red card is produced.
Referees give out yellow cards for such footballing offences as:
Foul tackle
Foul-smelling armpits
Infringement in the penalty box
Infringement in another player's box
Referees give out red cards for such footballing offenses as:
Serious foul play
Violent conduct
Sleeping with his boyfriend
Selling dead parrots and passing them as alive
Returning live parrots passing them as dead
Football players view them with both fear and disdain (not unlike X-Men). Few mortal players took on referees and won. A notable exception occurred during the FIFA World Cup in 2006, when Socceroo Karry Hewell successfully fended off Markus Merk (see below).
A referee is an artist. He sees the play in a different way.
Notable football referees
[
edit
]
Pierluigi "Angel Eyes" Collina
[
edit
]
Italian referee, personally favoured by Sepp Blatter as the best referee on planet earth. Appointed to officiate at the inter-galactic match between Mars and Jupiter but was withdrawn because his bald head is reflecting excessive sunlight. His bulging eyes are also said to emit laser beams that destroy precious flora life on Mars, as well as scaring little children aspiring to become FIFA referees. Australian singer Paulini Curuenavuli's 2004 hit was dedicated to Collina.
Anders "I love Chelsea" Frisk
[
edit
]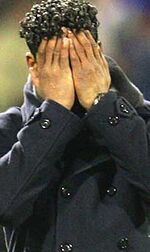 Ungratefully refused an AS Roma fan's offer to pay for his bus trip home, notwithstanding that the coin was thrown from row Z of the grandstands. Known to perform magical illusions such that famous figures, such as Frank Rijkaard, would mysteriously appear in his dressing room during half time of Champions League matches. Has since retired and sells tyres for a living. Was photographed having the craic with a bunch of irish fans, soon after awarding them 2 penalties in normal time against Spain in the 2002 world cup. Anders did his best to let Ireland win. The irish were naturally very grateful, but the team couldn't take advantage of the man in black's generousity. Anders was not the first referee to shave his legs, but he is famed as much for his smooth legs and even tan, as he is for his refereeing. Anders proposed to himself on several occasions, but twice turned himself down, saying that even he himself was out of his league. He finally married himself in June 2007.
Markus "My surname doens't start with J" Merk
[
edit
]
By day a German dentist, by night (especially FIFA World Cup nights) a powerful sorcerer able to conjure red cards at will. Among his chief weaponry are not such elements as fear and surprise, but a rigid body structure and stonewalling all requests for conversation. He temporarily lost his ability to produce red cards at the end of the Brazil v Australia game, when Socceroo Karry Hewell animatedly asked him where he kept the deodorant. Hewell's foul-smelling armpits paralysed Merk, whose inability to produce a red card cost him any further trusts with the grand empire, FIFA.
Horazio Elizondo
[
edit
]
Born in 1452 in Denmark, first gained fame as Hamlet's best mate, and suffered the misfortune of watching everyone dying in the disease-ridden castle of Camelot. He travelled to Argentina where, under the guidance of Quentin Tarantino, he became the most mutant of referees in the 2006 World Cup. There he tackled the most advanced footballing beast, better known as Zinedine Zidane, although it did take Elizondo two hours to realise that Zidane's subtle head movement has caused the demise of a rival beast, Marco Materazzi. Elizondo has previously acquired hero status by eliminating David Beckham and Wayne Rooney in previous encounters.
Luis "Funky Cold" Medina Cantalejo
[
edit
]
Name after the scientific lotion Funky Cold Medina, this Spanish mutant handed the Socceroos the ultimate punishment in their round-of-16 match against Italy - one of their player must be lined up and shot with a football from 12 yards. Fortunately for Australia, tragedy was averted when Francesco Totti failed to shoot down the Australian. With Medina in his blood, Cantalejo proved extremely popular with the ladies, unlike his other World Cup mutant counterparts (definitely not Collina).
Graham Poll grew up always wanting to make a name for himself in history. As he saw the more talented people making actual notable football records, Poll noticed that his days were almost over and he had to do something special for his last ever international match. He called up his friend Simunic and asked him to be extra naughty in the upcoming match, promising not to dismiss Simunic, regardless of what he did. Simunic, being the nice guy he is, granted Poll his request. As a result, Poll showed Simunic two yellow cards without showing him a red. Simunic, having the time of his life and feeling generally invincible, continiued his naughty behaviour. Poll, however, decided to drop the deal with Simunic in the dying minutes of the game, showed him a third yellow card and a subsequent red card. Poll was in tears after the match, knowing that his lifelong dream of making history was fulfilled. He had become the first and only ref to give the same player three yellow cards in one match.
Antoni "It's Not My Car" Fijarczyk
[
edit
]
One of the best referees in Eastern Europe, Polish by birth, Idiot by choice. During a game in 2005 in the Polish Cup he stopped the game in the 89 min. for 15 minutes, telephoned the Cup Commisioner and asked him if goals scored away count double. This act started riots and uprisings in Lower Silesia and was one of the reasons why people from the good old USA know where Poland is, because the event was a feature on Jay Leno. In 2006 he was starting to think about retiring but his bank account just didn't feel fulfilled. Dear Antoni took a 30.000 dollar bribe from GKS to fix a game (GKS vs Lech), hid it in his spare tire and was snug as a bug in a rug. Unfortunetly he took cash from very angry Polish Millita officers in a set-up (they swoar that they are NOT Lech fans...). When they ware kicking him in to the ground his last words before he lost feeling in his body ware "It'ssssssssssssssss nooooooooooooooooooooot myyyyyyyyyyyyyyyyyyyyyyyyyy caaaaaaaaaaaaaaaaaaaaar!!!!". He is now in jail serving a total of 2x45 years.
Howard "I hate Poland" Webb

[

edit

]
Another referee connected with Poland is Howard Webb, a Northern Englishman referee. First time Poles heard about him during U-20 World Cup in 2007 when in Poland-Brazil game he showed red card to Krzysztof Król in 27 minute. He was lucky guy anyway because Poland won 1:0 and it was not so significant. But during Euro 2008 in Austria/Switzerland, he was refereeing match between Austrian hosts and Poland. In 93 min. minute of game he gave Austria penalty kick beacuse Mariusz Lewandowski inappropriately touched Austrian footballer. If counting this touch as faul, there shhould be exactly 78 penalty kicks only during second half of game. However Howard decided to give penalty kick to Austria that changed score to 1:1 and knocked Poland from tournament. Everybody in Poland got furious. Leo Beenhakker called Howard an incompetent idiot and Polish Prime Minister Donald Tusk told that in first reaction he would apparently kill Howard if he was close enough; fortunately he wasn't. After that match Howard admitted that he made a mistake. But only mistake he did was allowing Poland's goal that was from offside. That angered Poland so much that they started to threat anonymously Howard's family. As England has overflow of Polish workers there was real threat of assasinating Howard Webb. Therefore English police gave him 24 hour security. There were actually 73 prevented tries of killing Howard Webb after match.
But Poland found another way to potential death for Howard Webb. He was invited to Poland to referee Polish Cup final in Chorzów, where Polish Football Assocation counted that angry supporters will kill him. There was one hole in plan: they forgot that nobody in Poland cares about Polish football Cup so nobody came to watch the game and Webb escaped unharmed from country.
Mark "Youngest" Shield
[
edit
]
A 5 year old Aussie Kid who referees big matches, he was the only Aussie that could ever make the World Cup final, as his team are being red carded by other referees because they don't like Australia. However, he retired in 2008 when he learned that Danny Vukovic was going to be allowed to play again. Vukovic had previously been suspended for 'making sexual advances' towards Shield's right arm. He has been known to cause the death of many Iraqis as he officated their 2007 Asian Cup Final
See also
[
edit
]
External links
[
edit
]