David Foster Wallace
Jump to navigation
Jump to search
WARNING[1]
This article is probably much too highbrow for your petit-bourgeois sense of humor (P.B.S.H). Don't expect vulgar cracking-ups or sophomoric non-sequitors.[2]

Just sit down with your pipe and let a gleeful smile form in the unadulterated corner of your mouth (U.C.Y.M). If that still doesn't nudge your little gray cells into comprehending the sophisticated witticisms[3], go pick up a book, you dumbtard!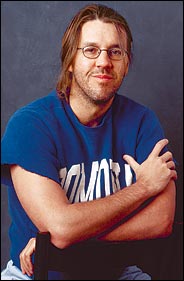 David Foster Wallace (D.F.W.)[5][6] (born February 21, In The Year of the Carton-Size Dove Bar[7]; Died September 12, In The Year of the 2007 Mimetic-Resolution-Cartridge-View-Motherboard-Easy-To-Install-EuroiPod For Infernatron/InterLace TP Systems For Home, Office, Or Mobile) is an eminent[8] and critically lauded American[9] novelist[10], essayist, pyromaniac, short story scrivener, and pedagogue.
Critically burnt as a toddler, his parents arranged him to grow long hair for the rest of his life, and as the burn had destroyed his intellect, installed a discreet installation of a Latin/Greek dictionary (L/G.D) in an unspecified niche of his skull; then changed his name from David Incandenza to David Foster Wallace. The native of New York lucubrated in Poonoma University, making a living out of kitten huffing performances. Suddenly he realized that he could breed long hair, act stylish and over-educated, then make a living out of cranking elongated articles ab absurdo[12].
He was once espoused with three dictionaries - Penguin English Dictionary (P.E.D.)[13], Merriam Webster's (Third International Edition) (M.W.T.I.E), and Roget's Thesaurus, 1979 Edition (R.T.1979.E) - and had an array of hybrid infants, respectively named David, Foster, and Wallace.
At the age of 27, he had a lengthy affair with a "red, sleek and arousing" Oxford's Dictionary, Eleventh Edition, one which he called a "delectatio morosa". "The slightly rough, laminated covers and the discreet 250,000 definitions skyrocketed me into a sense of heightened euphoria," he once spoke in a press conference, "and upon the opening of her pages, brought me to an extreme specter of ecstasy."[14] This eventually led to the divorce with his three dictionaries, whose legal battle for child custody became the most unimportant lawsuit since Alien vs. Predator.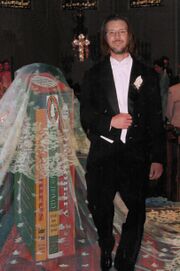 He spoke of this experience in one of his most recognized works, Something Supposedly Fun That I'll Never, Never Do Again (Honeys, I Swear) is a 100-page[15] about the lengthy affair. A condensed edition appeared in Hustler magazine, in a report of Ten Sexy Fetishes!. Wallace was not satisfied with this edition as Hustler had edited out 53 of his end notes, and famously declared his motto, "Footnote, ergo sum."
After this self-described "traumatic incident", he returned to "a deep sea of depression" and cranking out an auto-biographical Infinite Pest, a 500-page-long novel[16] to "have a final say on my life". To the disappointment of many, that was not the end of his life and thus he returned to work on Brief Interviews with Hideous Men[17], where critics said is "Wallace in his most honest...and egotistical."

Finally weary of writing about his own life, he sunk into great lethargy, trying to have sex with chicks in some tennis academy, but only succeeded in having it with tennis balls, and lobsters, which were "his current object d'amour". His essay, Consider The Lobster, was about this relationship.

Sadly, when the lobsters "undermined my sex appeal", he started looked for a higher being. Then he found one. Fifty years later, he died happily in her arms. The end.
Literary Style
[
edit
]
Wallace wrote in sesquicentennially, ostentatiously extended clauses, resulting in a pruriently and stubbornly tenacious prose style[18] - providing a bottomless pit for the issue of brevity and the opinion of simplex sigillum veri. He also used many footnotes[19], and thus came to the uneducated proletariat as "clumsy and annoying", one of his criticisms[20]. One work stands out of his repertoire, however: The Litle [sic] Dog and Superman , which is considered one of his most accessible and readable works and perhaps his magnum opus. Critics generally agree that the significant difference of style was because the work was written during third grade English class, when he had not yet been traumatized by pressure from the intellectual literati. It also has the Joycean quality of his later writings, due to the fact that he had not learned to punctuate.
His style is well-received and lauded by real critics[21] This from London Review:
| | | |
| --- | --- | --- |
| " | More than anything, the defining quality of these fictions is the degree to which they leave the common reader totally bat shit confused about very basic narrative issues: what are those obscure Roman phrases? Sex with dictionaries? WTF? Why did I buy this fucking book?[22] | " |
Bibliography
[
edit
]
Memoirs
The Buffoon of The System
Brief Interviews with Loathsome Men [24]
A Supposedly Fun Thing I'll Never Do Again (Honeys, I Swear)
Others
Footnotes/Endnotes
[
edit
]