UnNews:National Piss in the Sink Week launched
Jump to navigation
Jump to search
---
Who knew The Onion® had a retarded stepbrother?
✪
UnNews
✪
Friday, June 9, 2023, 18:52:

59

(UTC)
---
| | | |
| --- | --- | --- |
| National Piss in the Sink Week launched | | |
27 September 2006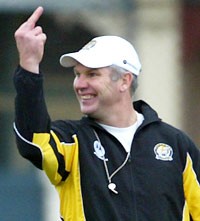 BALLARAT, Australia -- GNN (GOANNA NEWS NETWORK) With great swathes of Australia in the tightening grip of tightening water restrictions, the nation's first official Piss in The Sink Week was officially launched by potato farmer and former AFL footballer Danny Frawley at his property near Ballarat yesterday.
"Just have a look at this bloody place, wouldya?" said the former St Kilda full-back as he kicked up a photogenic cloud of dust in a desiccated paddock that as recently as last year supplied potatoes to 15 local fish'n'chip shops. "It looks like bloody Darfur."
With dams in the Ballarat district currently less than .05 per cent full -- about the same level as the legal blood-alcohol limit but significantly less full than the average local driver -- Frawley said the time had come to stop wasting Australia's most precious resource (children ran a distant second in recent polls) and "bite the bullet and piss in the sink".
"Let's face it," Frawley said. "Once you break the seal (urinate for the first time during a heavy drinking session) you're going for a slash every five minutes. And if you're flushing the dunny every five minutes you may as well be flushing the whole bloody country down the septic tank as far as I'm concerned.
"The only way out, if you ask me, is to piss in the sink. It's usually closer to the fridge anyway."
Frawley dismissed as "half-cocked" traditional Australian water conservation tactics such as putting a housebrick in the toilet cistern and re-routing water from the washing machine onto the garden.
"You might as well be farting into Cyclone Tracy if that's all you're going to do," he said.
Frawley, who played at least 200 and probably 300 games for St Kilda during a predictably doomed couple of decades for the club, said he had not been discouraged by the failure of his last water-saving venture, last year's "Only Flush for Henry Month".
"Now that was a sound idea," he said. "The science behind it couldn't be faulted. If you give the flush a miss when you're only pointing Percy at the porcelain, and you only flush when you've dropped a Henry the Third (turd), you're bound to save water, no worries about that.
"Only problem was my missus didn't like it."
Sources
[
edit
]