UnNews:Lavatory Limbo: Idaho senator caught with pants down
Jump to navigation
Jump to search
---
Every time you think, you weaken the nation —Moe Howard
✪
UnNews
✪
Monday, December 11, 2023, 08:34:

59

(UTC)
---
| | | |
| --- | --- | --- |
| Lavatory Limbo: Idaho senator caught with pants down | | |
28 August 2007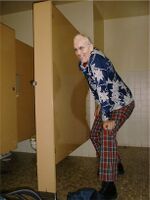 WASHINGTON DC -- United States Senator Larry Craig (R-Idaho) announced today that he is innocent of the lewd behavior charges that he pled guilty to in a Minnesota courtroom on August 8, 2007. Craig, who was last re-elected in 2002 on a platform of supporting traditional family values, claims that his behavior in the Minneapolis airport men's room has been misinterpreted by himself and the national press.
"I was sitting in the toilet stall that day, with a frisky calypso tune running through my mind, so naturally I was tapping my toe to the song in my head when I noticed that the edge of the metal partition looked a bit rusted, so I ran my finger over it to feel its rough edge which I thought could be a safety hazard. Just as I completed inspecting the partition edge, I dropped a sheet of toilet paper on the ground, and had to kneel on the floor to pick it up when I slid into the stall next to me," explained the Senator.
Craig, who tried to find a an expeditious way of dealing with the manner, pled guilty in a Minneapolis court room for propositioning an undercover airport police detective who was spending his shift break on the can when the Senator allegedly began a game of "Lavatory Stall Limbo" and broke the rules for using the mens room.
"I didn't plead guilty to admit guilt; I pled guilty so I could put this behind me."
According to the transcripts of the court proceeding, prosecutors said that the Senator began to play footsie with the detective, which, according to the book Everything That You Always Wanted to Know About Sex, But Were Afraid to Ask is a homosexual sign to invite play. When asked how the Senator's foot found its way into the detectives restroom stall, Craig admitted that he has a "wide-stance" when "sitting on the commode."
The married father of three adopted children, has a reputation of being a complete gentleman around women. Craig's wife has stated publicly that her husband is a gentleman who "has never laid a hand on me or bothered me with his personal needs."
Craig received an astounding 96 of a 100 possible points from the American Conservative Union in 2006. Craig has also received a 99 out of 100 rating from the American Union of Closeted Elected Officials, however an unnamed source within that organization stated that this little slip up could lower Craig's ratings with that group.
" 'Oh for the love of God, Mary,' I told him, 'that behavior is so 1980s,' " said the unnamed source. "But then again, he's also the man who led the fight to make Glory Hole's illegal, so go figure!"
Sources
[
edit
]