Joan Crawford
Jump to navigation
Jump to search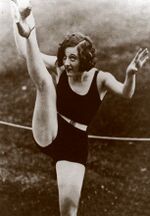 "No wire hangers... EVER!!!"

Joan Crawford (1904 – 1977) is the only American film actress who ever mattered.
Her career spanned forty years in which she brought her finely honed acting skills to such landmark movies as Our Dancing Daughters, Our Modern Maidens, Our Hammered Housewives, Mildred Pierce (the only film that ever mattered) and, of course, Trog.
Crawford's lust for life was so strong that Faye Dunaway claimed that the spirit of the actress possessed her during the filming of Mommie Dearest -- graciously providing Dunaway with an excuse for her hammy, over the top acting.
Crawford was a small town gal, born on the wrong side of the tracks in a two bit town. Her mother named her Joan, after the saint and Crawford, after nasty little Texas town of the same name. As a child of six, young Joan decided that she had larger plans for life and choose the name Lucille LeSueur (for its star quality, because it sounded classy, and because she really enjoyed their canned peas).
Heads to Hollywood
[
edit
]
From there she headed to Hollywood where she beat out Belle Poitrine for the role of Bit Part in the in the movie Proud Flesh. Poitrine was furious and lashed out by smearing the name Lucille LaSueur over every men's room wall south of Azusa, California.
A bitter Lucille folded up her waitress badge and threw it in the trash... and emptied the canister as Joan Crawford.
Crawford acted and danced and slept her way to the top. To keep herself there, she married and then divorced Douglas Fairbanks Jr. Two other marriages followed, each to men more obtuse than the next. Her last husband was Phillip Pepsi, the cold drink king of Pepsico.
In 1946 Miss Crawford was nominated for the Academy Award for best actress in a melodrama, however she had doubts about her ability to win; not wanting to have to sit there while a trollop like Jennifer Jones gave her acceptence speech, Crawford instead took to her bed with a sick headache. To everone's surprise, Crawford won the Academy Award for her role of Mildred Pierce in the movie Mildred Pierce. As it look suspicious for a lady like herself to get well from a sick headache in record time, Crawford decided to accept Oscar as she had with so many other men in her life: she accepted it in her bed.
Crawford was the first to shatter Hollywood's chauvinistic system when she took the script for Johnny Guitar, a western-noir story of a man, his saloon and the drifter that made him realize that he was a woman along.
Smashing success on television
[
edit
]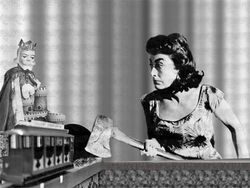 Carwford's most memorable foray into a televised series was the PBS children's program entitled Miss Crawford's Neighborhood. "I just adore children that know their place," Crawford said in a press release announcing the show.
The show consisted of Crawford coming home, getting her mail from Postman McFeelme, removing her jacket, donning a cashmere sweater and then smoothing her hose before pouring herself a side car. Once Miss Crawford was refreshed (usually two or three drinks later), she lead her young viewers into a trip to the Land of Make Believe, populated by puppets and other whimsical creatures.
Crawford stepped down after an incident involving the semi-drunk star over who King Friday liked best, herself or Trolley. Before stage hands could cut to a test pattern Crawford began screaming "speak damn you, speak!" at Trolley (which was dinging its bell furiously as a warning to the actress that she was going where she shouldn't go) before taking an axe to the prop while live on camera. She was dragged from the Land of Make Believe and banished forever from PBS.
Crawford's most searing television was that of filling in for her adopted daughter and whipping boy Christina Crawford on the soap opera 'Secret Storm. Christina, who was recovering from her mothers attempts to rip her daughters vocal chords out watched in horror as Crawford bedded her daughter's on screen husband, followed by the rest of the cast, and then Christina's real-life husband. The latter incident took place later that evening in the hospital the bed right next to hers. Witnessing the event burned a permanent place in her daughter's already unstable brain and it was at this point that her mind slipped into complete and utter insanity.
The curtain comes down on Crawford, the legend
[
edit
]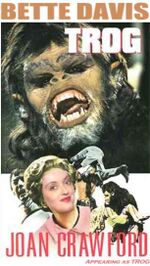 Her final film, Trog, was a fitting project with which to end her career. Playing a scientist, body double Shirley Courier portrayed the only human hoping to protect the cave-man like creature, Trog (Crawford), from the effects of society. In the end, society won, but not before Crawford's man-beast character died a heroine addicts death. Critics panned the film, but all agreed that Crawford never looked better - Liz Smith writing, "She looks so lifelike."
Though her name appeared on two more movies, she never appeared on them, and sadly, no one noticed. "I may never have appeared on camera in those two movies, but my name was on the top of the movie poster and that means I still have star quality."
Crawford's final foray into theatre was, as she began, in the chorus line of the Ice Capades. Although she found the other chorus skaters to be a swell group of gals, Crawford decided to take her final bow in East Saint Louis Missouri, "Where it all began."
She died, as she lived, in a sterile environment; her final wish was that her family would have her casket lined with clear plastic slip covers, and cleaned daily for the rest of time.
Bette Davis, after holding a mirror under the actress' nose (just to be sure) volunteered to set the casket's air-tight seal. "She's really dead. Pity. Nothing would have given me greater pleasure than knowing that Joan was alive at this exact moment," quipped Davis in between puffs of cigarette smoke.
Of Crawford, Davis said "Mother God-Damn here in the box before me, could have owned Hollywood instead of sleeping her way through it to the middle. I've always said that no one in Hollywood had bigger balls than Joan."
Things Joan Crawford didn't drink
[
edit
]
Mommie Dearest (1981)
Let's Scare Mildred to Death (1970)
Spawn of Trog (1968)
Trog: Story of a Woman (1967)
Return to Private School for Nurses (1967)
The Chop-Suey Murders (1966)
Private School, for Nurses (1966)
I've Done Away with All That! (1965)
Berserker (1964)
Whatever Happened To Baby Jane Holzer (1962)
Slippery When Wet (Musical remake) (1962)
Prank Call Killer (1961)
Mondo Cane (1962)
Playing the Enchanted Flute (1959)
The Story Of Abbott & Costello (1957)
Ungrateful (1957)
A Tube steak for Teresa (1957)
On All Fours: the Story of a Woman (1956)
Tubby The Tuba (1955)
Johnny Guitar (1955)
Demented! (1954)
Torch Song Trilogy (1953)
Unrestrained (1953)
Dangerous Curves Ahead (1953)
Mourning Becomes Mrs. Daniel Craig (1953)
This Woman Is Retarded (1952)
Harriet Craig (1952)
Suddenly Damp (1952)
Craig's Wife (1951)
Queen Bitch (1950)
Harriett's Wedding (1950)
Slippery When Wet (1949)
A Man and His Hoe (1948)
Dreaming Legs (1947)
Inspect Her Gadget (1946)
Parachute Nurse (1945)
Mildred Pierce (1944)
Hello Sailor! (1943)
Fleet's In (1943)
Spreadeagled for Hitler (1942)
Torch Song Trilogy (1942)
Hollywood Soup Kitchen (1942)
They All Screwed The Bride (1942)
The Shriner's Circus Follies Of 1942 (1941)
Return of the Men (1941)
The Inscrutable Terror Of Doctor Egg Fu Yung (1940)
The Phoney Baloneys of 1939 (1940)
The Womyn (1939)
The Herd (1939)
The Men (1938)
The Man (1937)
Back Door Girl (1936)
What A Gay Old Time! (1936)
Women's Curling Champ Hopefuls (with Sonja Henie) (1936)
Right on Red After Complete Stop (1935)
The Shining Helmet (1934)
Fatal Fanny (1934)
Rear Entry (1934)
Ass Diggers Of 1933 (1933)
Flash Gordon Meets The Queen Of Uranus (1933)
Falling Rocks Ahead (1933)
Diary Of A Tramp (1932)
On Her Knees (1932)
Shackled To Sin (1931)
The Boobs (1931)
I'm Coming! (1930)
The Toils Of Martha Thacker (1929)
Wet (1929)
Our Vivacious Vixens (1928)
Our Modern Maidens (1928)
Our Grinding Hussies (1928)
Our Prancing Pussies (1928)
Our Dancing Daughters (1927)
Seduced By Flesh (1927)
Ten Cents a Dance (1926)
Spitzer Swallows (1926)
Drink More, Seamen! (1925)
Proud Flesh (1925)
Television
[
edit
]
Rowan & Crawford's Angst In (ABC, 1970-1972)
Miss Crawford's Neighborhood (PBS, 1967-1968)
Wild, Wild Breast (CBS, 1962-1966)
Pepsi Cola Melodrama Theatre Hour with Joan Crawford (NBC, 1953-1955)
Saturday Night at the Roller Derby, Refereed by Joan "Ball Buster" Crawford (DuMont 1949-1950)
Tampax Radio Dramatorium presents 'The Birth Of A Nation' (1953)
Good Sex Quarter Hour with Miss Joan Crawford, (NBC Blue Network, 1948-1949)
USO Shakespeare Theatre (AFRN 1942-1944)
Morse Code Follies of 1916
Legitimate Theatre
[
edit
]
Ice Capades, National "B" Touring Cast, 1973.
Miss Macbeth Stratford-On-Avon Ohio Players Guild, 1972
Hair Joseph Papp's Public Theater, N.Y.C., 1967
OK, LaHomo Martha Graham Dance Theatre Workshop, 1946
Blow A David Belasco Production, Ziegfield Theatre, 1933-34
The Gay Divorcee (opposite Douglas Fairbanks Jr., Franchot Tone and Daniel Terry)Los Angeles Superior Court Theatre, 1931, 1937 and 1947.
She Is More To Be Pittied Than Censored, East Saint Louis Follies Theatre, 1918
Our American Cousin, Fords Theatre, 1865.
See Also
[
edit
]