UnNews:Football Hooligans More Competent Than Students At British Geography
Jump to navigation
Jump to search
---
Every time you think, you weaken the nation —Moe Howard
✪
UnNews
✪
Wednesday, March 22, 2023, 09:25:

59

(UTC)
---
| | | |
| --- | --- | --- |
| Football Hooligans More Competent Than Students At British Geography | | |
9 December 2008
UK - Football Hooligans More Competent Than Students At British Geography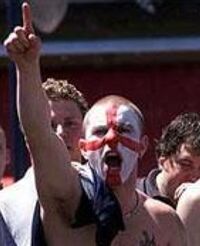 A poll commissioned recently reveals that convicted football hooligans have a far better knowledge of the geography of the British Isles, than university students. Of the 1000 convicted hooligans polled, 90% scored over 86% in the series of questions posed to them. Meanwhile only 22% of the 1000 students polled gained higher than 37%.
Steve Blaby from Longton, Stoke on Trent, a former member of the Naughty Forty, the firm associated with Stoke City Football Club, has over 100 convictions for violence and criminal damage, and scored 97% on the survey.
"I found the poll rather easy", he grinned, showing off his tobacco stained and missing teeth with pleasure. "Everyone knows that Liverpool is further east than Edinburgh, and that Cornwall only borders one other county". He accurately pointed out the towns of Lowestoft, Pangbourne, Lossiemouth and West Bromwich on a map of Great Britain in under two seconds, and added, smirking "I f***ing twatted a f***ing Baggie c*** with an iron bar after we lost 3-0 to those f***ing Black Country Bastards!".
Blaby also identified Toddington and Newport Pagnell services on the M1 and took pleasure in noting that he got thrown out of Sandbach services, on the M6, for "nicking a sausage roll" and "pissing on the counter", He was also quick with the location of 'The Wash', and both of Bristol's mainline railway stations, Bristol Parkway and Bristol Temple Meads. "F***ing Rovers fans, f***ing carrot crunching c***s. I punched a copper at Parkway once after we had a really shit game, and the twat tried to confiscate my Stella, f***ing dry trains f***ing joke. Got eighteen months for it too. Should have smashed the c***'s face in, but life's too short for regrets".


Imbeciles
[
edit
]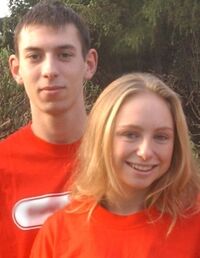 Meanwhile on the other side of the coin, media students from South West London, Lee Pirateplaymobil and Emma Emmerton-Enema were unable to get a single question correct. "Skegness, er isn't that in Scotland?", suggested Lee nervously in a particularly bad 'mockney' accent. He also failed to name the county town of Northamptonshire, despite having five minutes to 'think' about his answer. Emma incorrectly thought that the Isle of Wight was part of the Balearic Islands and didn't say much else other than repeating "Oh my god" at every question put to her and stating that "If they'd asked me questions about Sex And The City, I might have a clue". Both failed to identify the location of London on a map of the UK, despite living there, although helpfully suggested that "Our mate Finn managed to blag a minibus, so we could get to the Reading Festival last year".
Sources
[
edit
]