UnNews:Disney adds porn to televised children's fare
Jump to navigation
Jump to search
---
Every time you think, you weaken the nation —Moe Howard
✪
UnNews
✪
Monday, March 27, 2023, 11:21:

59

(UTC)
---
| | | |
| --- | --- | --- |
| Disney adds porn to televised children's fare | | |
7 May 2007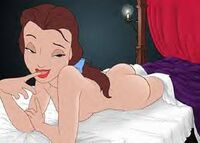 MIDDLETON, NJ - The Disney Channel outraged preschoolers' parents by broadcasting hardcore pornography in place of the more innocuous if asinine cartoons and family fare that it normally airs during the early morning hours.
COMCAST subscriber Paul Dunleavy is thinking about canceling his subscription to the television cable service and may sue The Walt Disney Company for allowing his five-year-old son, Mike, to watch a heterosexual couple "fornicating," saying "It was disgusting." Had the couple been lesbian, he admitted, he might have joined his son for a little "sex ed talk about the birds and the birds."

The offensive program, Handy Manny, is about a bisexual handyman named Manny Garcia, and his talking "tool," Dunleavy told Unnews' reporter, Lotta Lies.
Disney Spokesman Roger Rabbit said that he can't explain how the mix-up occurred. "Normally, we don't air porn until after noon," he explained.
Due to increasingly adult fare on the part of such companies as Marvel Entertainment Group and DC Comics, which both offer not only storylines replete with sexual situations but also portray naked couples coupling and have introduced gay, lesbian, bisexual, and transgender characters, Disney has found it necessary to "sex up our toons, too," Rabbit confessed, "but no one's supposed to see Belle's breasts or Alice's ass before midday."
COMCAST agreed to provide free cable service to the Dunleavy family for the rest of Paul and Mike's lives, but the elder Dunleavy believes he can get a better offer if he pursues litigation. "When I'm through with the bastards, I'll have more money than the Disney Channel and COMCAST put together," he predicted.
"Since Mr. Dunleavy won't be reasonable," COMCAST spokesman Fred DeAndrea said, "it's likely that little Mike will be getting quite an eyeful tomorrow morning, when we might just accidentally show Marvin and Bruce: Honeymooning in San Francisco. It's graphic, its gory, and it's gay."
"I'll just pitch the TV set," Dunleavy said, upon hearing of COMCAST's intentions.
"If he does that, he'll miss the lesbians, too," DeAndrea said, "which would be a shame: we have Sarah Michelle Gellar lined up opposite leading man Selma Blair, followed by a threesome among Jennifer Love Hewitt, Reese Witherspoon, and Paris Hilton's poodle."
"I didn't say I was going to pitch my TV," Dunleavy said, "just Mike's."