UnNews:Crandon police remove "Protect" from logo
Jump to navigation
Jump to search
---
Every time you think, you weaken the nation —Moe Howard
✪
UnNews
✪
Friday, June 9, 2023, 19:01:

59

(UTC)
---
| | | |
| --- | --- | --- |
| Crandon police remove "Protect" from logo | | |
8 October 2007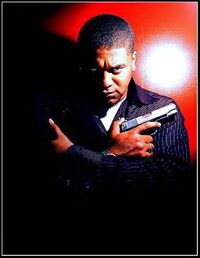 CRANDON, Wisconsis - The sheriff's department of Crandon, Wisconsin, removed the word "Protect" from the logo on all of its squad cars after one of its own shot and killed six of his former high school classmates in a jealous rage over his ex-girlfriend, Marti Nome, whose name authorities have not released, pending notice of the deceased's parents. Prior to the removal of the word, the logo had borne the slogan, common to many police departments, "Protect and Serve." "We no longer feel we have the right to say 'Protect,'" Sheriff Keith Van Cleve explained, "and we might even remove the 'Serve' part of the motto, too."
Citizens of this tiny community are in shock over the spate of killings by one of its own deputies, Tyler Peterson.
"I went to school with that fool," James Rogers told Unnews' reporter Lotta Lies. "He was a squirrelly little bastard then, too, but I never thought he'd kill anybody, good or bad."
According to Rogers, Peterson had been attending a party where "the booze flowed like snot from a runny nose," when he heard that his ex-girlfriend was going steady with a man whom Peterson had arrested a month before for calling the deputy sheriff "a humanoid turd."
Ella Parsons, the town's postmastermistress said, "I don't know why Keith hires them kids right out of high school to be deputies. Hell, that boy [Peterson] was still sending away for them X-ray glasses that supposedly lets whoever wears the damned things see through girls' dresses. He just mailed one last week, after he got off work, wearing his policeman's costume." The first time she saw Peterson in his uniform, last October, Parsons recollected, she "thought he was dressed up for Halloween."
Her husband, Crandon's fire marshal, agreed. "That boy was still wet behind the ears. Them kids don't know nothing 'bout being a lawman. Hell, Keith don't know nothing 'bout it himself, and he's been our sheriff since he got out of high school, twenty years ago."
Everyone in this small, close-knit community is likely to be affected by the murders, Jenny Stahl, the mother of one of the victims, 14-year-old Lindsey, said.
Parsons agreed with the young mother. "There's going to be more bodies in the town cemetery now than in the town itself," she lamented.
"Police brutality's reached a new high--or low," Kevin Smedley, owner and operator of Smedley's Smokeless Tobacco Shop decreed. "Taking 'Serve' off the police logo ain't going to remedy that."
Bob Roberts, the owner of the town's only mortuary, defended the sheriff's practice, criticized by many, of "robbing the cradle to obtain police recruits." "It makes sense," he said, "and it's good for business."