UnNews:Bo Jackson doesn't know anymore
Jump to navigation
Jump to search
---
Truth doesn't "live here" — It's just camping out
✪
UnNews
✪
Friday, December 3, 2021, 19:13:

59

(UTC)
---
| | | |
| --- | --- | --- |
| Bo Jackson doesn't know anymore | | |
9 December 2008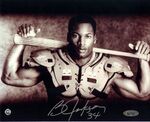 LOS ANGELES, California (UNN) -- Bo Jackson, formerly known as God Almighty, recently declared after years of abuse on the baseball and football fields that he doesn't know anymore. Jackson was a spokesman for Nike footwear with his "Bo Knows" slogan. After becoming world famous for Tecmo Super Bowl, in which Jackson would run for a 99-yard touchdown on every play, Jackson played for the Los Angeles Raiders from 1987–1990. Jackson also ripped shit up in a baseball career spanning 1986–1994, mainly with the Kansas City Royals (no joke, seriously).
Jackson conquered the world in 1989 by breaking his bat over his knee, saving an elderly woman from a house fire, and changing a hot, young lady's tire all just in time to suit up for a Raiders game against the Denver Broncos. Following the game, Jackson received the key to the city of Los Angeles.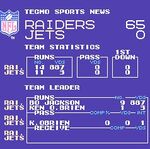 He is not the only professional athlete to suffer from severe head trauma. In 1999, Troy Aikman was beaten senseless into his eighth concussion, which resulted in him believing that he was a woman. Steve Young also had a history of concussions but was a woman, to begin with.
Jackson recently sat down for an interview with ESPN, detailing his battle with memory loss. He was accompanied by his stuffed teddy bear, Al, and a box of Ritz Crackers.
| | | |
| --- | --- | --- |
| " | What's the score for the game? I heard that the Cleveland Browns are playing tonight. I've got my money on them in the Super Bowl this year. Turn that game on. Ooh, I also like that hockey team–Winnipeg. Winnipeg Jets, right? | " |
Jackson seemed fully unaware that both teams ceased to exist by the middle 1990's. The Cleveland Browns attempted to escape their futile history by relocating to Baltimore, Maryland, and were renamed the Baltimore Ravens. The Winnipeg Jets became the Phoenix Coyotes and were quickly forgotten by hockey's beloved fans.
Jackson's wife spoke with ESPN's investigative reporter, saying that Jackson just doesn't know how to be a badass anymore, and instead sits around doing jack shit while punk bitches play in the No Fun League.
| | | |
| --- | --- | --- |
| " | Sometimes he wakes up and just eats crackers, and other days he just wakes up and plays Beautiful Katamari all day. | " |
Jackson occasionally forgets who and where he is, but with constant reminders of his all-around badass talent keep him on his toes, such as a book full of hospital bills from opponents, and his record-breaking 18 MVP awards. Jackson was recently extended an invitation to appear at Super Bowl XLVII in Tampa Bay, Florida in February 2009, a year after his scheduled appearance at Super Bowl XLVII went awry; Jackson got lost on the highway and instead stayed at a local Jack-In-The-Box restaurant for the rest of the night.
Further, into the interview, Jackson expressed his condolences towards the recently charged O.J. Simpson, a fellow former NFL running back.
| | | |
| --- | --- | --- |
| " | O.J.? Ah, yeah. Some of that sounds really good right now. | " |
Following the interview, ESPN offered Jackson a 10-year contract to be one of their football "analysts."
See also
[
edit
]