UnNews:Bloke stops warning store clerks
Jump to navigation
Jump to search
---
Every time you think, you weaken the nation —Moe Howard
✪
UnNews
✪
Tuesday, November 30, 2021, 15:20:

59

(UTC)
---
| | | |
| --- | --- | --- |
| Bloke stops warning store clerks | | |
9 February 2012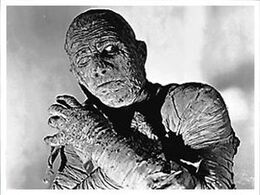 SOUTH YARRA, Australia, GNN (Goanna News Network).
SOUTH Yarra bloke Brent "Potato" Couchman last night decided to stop telling local convenience-store clerks about the armed robber known to police as "The Mummy".
"Well," Couchman said, "There's this guy, he's probably a junkie or something, who goes around robbing the Caltex and all the 7-Elevens up and down Punt Road."
"He always has his head all wrapped up in bandages, which makes him look like a mummy or some shit. I can't remember whether he's supposed to have a knife or a gun or a syringe or what."
"I think the cops call him The Mummy but, seriously, I'm fucked if I know. I seriously haven't spoken to a cop around here in at least five years. Or even seen one."
"Anyway, when I was drunk last night and went over to the Caltex to buy cigarettes I started telling the new guy at the counter about the Mummy and he got all weirded out and said that the 7-Eleven down the street just got knocked over (robbed) the previous night."
"When I saw he was so freaked out I thought, well, you know, it probably wasn't worth telling him about The Mummy or whatever. But then again, it might save his life. "
"Jesus, now I don't know what to think."
Couchman last changed his policy about what to tell local store clerks after he sort of unintentionally frightened a teenager who was working in his local bottle shop.
"Yeah, that was funny," Couchman recalled. "I was absolutely shitfaced drunk and I went in there and bought a bottle of tequila and a bottle of margarita mix. As the kid was ringing it up on the till I said to him 'Do you know that it's a criminal offence to supply alcohol to a person who is already intoxicated?' and he was, like, 'Um ... No?', and I was all like "Well, I know because I'm a police officer -- and I'm drunk!"
"Yeah, I'm a bit of an arsehole, but at least I got the tequila."