UnNews:Band of pirates subdued by Navy SEALs
Jump to navigation
Jump to search
---
Your A.D.D. news outl — Oooh, look at the pictures!
✪
UnNews
✪
Monday, December 6, 2021, 18:17:

59

(UTC)
---
| | | |
| --- | --- | --- |
| Band of pirates subdued by Navy SEALs | | |
25 April 2009
Prestatyn, North Wales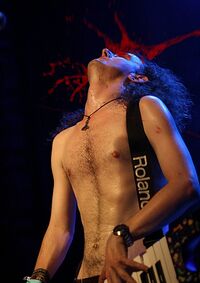 Last night, under cover of darkness, a team of US Navy SEALs slipped past venue security at Hammerfest, crowdsurfed their way over a sea of headbanging metalheads, and took out Scottish Pirate Metal band Alestorm. Three of the band members are dead and the fourth has been taken into custody.
Alestorm had opened their set with Over the Seas, which told of their successful quest for gold guided by a map provided by a hook-handed man. They followed up with Keelhaul, in which they admit to torturing and killing a man, off their forthcoming album. The set continued with more brazen confessions of illegal activity for forty minutes into its hour allotment before singer/keytarist Christopher Bowes (22) demanded a "stage invasion" and began pulling screaming audience members onto the stage during the crowd anthem Wenches and Mead. By this point, Bowes had stripped off his pirate-themed attire and was wearing nothing but black briefs, and was determined to be an immediate threat to the hostages.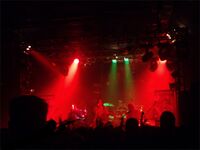 The three SEAL sharpshooters each took a single shot, immediately killing three of pirates, Bowes, guitarist Dani Evans (21), and bassist Gareth Murdock (21). There was no clear shot of drummer Ian Wilson (22), who had taken cover behind a well-fortified drum set, but he was captured attempting to escape through the crowd. None of the hostages were injured.
"This is something that was not overly complicated," a venue security guard told our reporter. "The distance was not that far. A few things made it more difficult. They were shooting headbanging targets while they themselves were being tossed about by an excited mob. That's shooting a moving target from a moving bearing, and you need a lot of patience too." A nearby fan shouted "WOOOOOOO! CAPTAIN MORGAN'S REVENGE MOTHERFUCKERS! THEY TOLD YOU!" and threw the horns at our camera.
A recent surge in pirate activity fueled in equal parts by an unstable world economy, Hollywood glorification, and concerns over global warming, has left the United States government little choice but to send its navy to perform awesome acts of heroism far beyond its borders. These Navy SEALs are heroes and make the world's oceans a better place. The French are also helping.
Alestorm's second full length album, Black Sails At Midnight is still scheduled to be released on May 27th, 2009 on Napalm Records. A free mp3 version of the album was released via rapidshare by the band shortly after recording was completed, accompanied by a proud admission that piracy is a crime. This may be used against Wilson when he is brought to trial under UNCLOS.
Hammerfest is sponsored by Metal Hammer magazine. This was the first year it was held, and it reached full capacity with 2557 tickets sold for £40 - £680 and 1660 tickets awarded in magazine and online contests. The festival covered two days and three stages, with performances by Opeth, Saxon, Hammerfall, Architects, Skindred, Cathedral, Alestorm, Grand Magus, Sabbat, Attica Rage, Wolf, Gama Bomb, Warpath, Mutant, Lethargy, Annotations Of An Autopsy, TYR, Waylander, Sylosis, Trigger The Bloodshed, Evile, Voodoo Six, Mencea, Sacred Mother Tongue, Hollow Earth Theory, Firebrand Super Rock, The Mirimar Disaster, Exit Ten, Dream Evil, Thirteenth Sign, Blood Island Raiders, Kiuas, Tesseract, Bleed From Within, Argent Dawn, Nex, Many Things Untold, The Morning After, Open The Skies, Sworn Amongst, The Dead Lay Waiting, Avarus, and With Chaos In Her Wake. Next year's lineup has not been announced, but tickets can be purchased at http://hammerfest.co.uk/