UnNews:"Weird Al" Yankovic vandalizes Wikipedia
Jump to navigation
Jump to search
---
A newsstand that's brimming with issues
✪
UnNews
✪
Tuesday, November 30, 2021, 18:11:

59

(UTC)
---
| | | |
| --- | --- | --- |
| "Weird Al" Yankovic vandalizes Wikipedia | | |
5 December 2007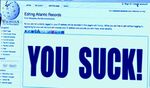 WIKIPEDIA, Internets. "Weird Al" Yankovic, in a meaningless and stressful way, vandalized Wikipedia this very day. The target in particular was Atlantic Records, upon which Weird Al wrote in big blue text: YOU SUCK! Following his submission, his IP address was personally banned from Wikipedia by Jimbo Wales, who also sentenced his IP address to one month of rehabilitation. The reason for why Weird Al did this is unknown but the assumed reason is that he was given the greenlight to mock some popular song called "You're Beautiful" and turn it into "You're Pitiful". The song was not released due to the CEO thinking it was a little too much. Weird Al had this to say:
"FUCKING ATLANTIC RECORDS, YOU HUMOR-HATING BASTARDS!!!"
Shortly after that comment, he had to replace it with his then unknown hit "White & Nerdy". While making the music video, he decided to display his hate for Atlantic Records in the method Wikipedia wouldn't let him do: write in big bold letters the words YOU SUCK!. Shortly after the video was released, many Wikipedians (and a few Uncyclopedians) decided to vandalize the Atlantic Records page with the same big bold text. After a few seconds, reverts were happening, followed by the banning of a lot of users. To this date there are over 100 bans relating to the Atlantic Records article.
A meeting was called by Jimbo Wales and the finest Wikipedians to discuss the matter, mostly involving removing the big bold text. After a few hours they finally decided to remove big bold text from Wikipedia and to sentence "Weird Al" Yankovic to 1 month of rehabilitation which meant no further songs for him. He also was forced to create a PSA about not vandalizing Wikipedia which involved him begging for those of you in the know.
Despite the removal and sentencing of "Weird Al" Yankovic, the Atlantic Records article is still vandalized to this day.
Sources
[
edit
]