Tally Hall
Jump to navigation
Jump to search
Tally Hall



Tally Hall performing in 2006

Background information
Origin
Ann Arbor, Michigan, U.S.
Genre(s)
Years active
2002—2011
Not to be confused with Tally Tubbies or Tally Ho.
Tally Hall is an American rock band formed in Michigan during 2002. The band is described as the love child of Freddie Mercury, John Lennon and Rivers Cuomo — with their music sounding mostly like if an up-beat Beatles song was mashed together with the alt-rockiness of Weezer. Each member of the band can be identified by the color of their tie — as opposed to just their faces.
Their first album, Marvelous Marvin and his Museum Mechanical, was released in 2005, re-released in 2006, and re-re-released in 2008. It is often considered as their best album. Their second and last album, Eood & Gvil, was released in 2011, but since everybody had forgotten about them, almost no one listened to the album. Subsequently, the band went into hiatus soon after and went radio silent.
Background
[
edit
]
Members
[
edit
]
The members of Tally Hall are Rob Cantor (Yellow Tie): a love biter, guitar player, and lead vocalist. Red Tie is Joe "Joe Hawley" Hawley: the Lennon of the group, singer of funny noises and accents, slouched guitar player, and the Banana Man. Zubin Sedghi (Blue Tie): just give him a bass, and he will proclaim "the automated players." Green Tie is Andy "Sticky Keys" Horowitz: a pretty good song-writer, but gets no spotlight as he is always on the far side playing his keyboard. Finally is Ross Drummerman (Grey Tie). He can drum to save his life, but just don't ask him to sing as he will just start clucking.
Formation
[
edit
]
As is the case with most bands, they all met each other through school — except for Ross, who just showed up one day and stuck around. After realizing that they all played different instruments, and that when played together can make some good sounding music, they formed a band. Andrew started work on writing some songs, and even got an award from the conniving bitch who broke up the Beatles, Yoko Ono, for the song "Good Day" — which was written about the day Andy found five dollars on the ground.
With Tally Hall now formed, and a few songs ready for the world to hear, the group now faced a new problem: how were they going to get their music out there? Joe Hawley then came up with the idea to make their own comedy TV show, and just feature their songs on that as a segment.
Tally Hall's Internet Show

[

edit

]
The show ran from September, 2008 to January, 2009 for a total of ten episodes, with a bonus episode being released in December, 2013. With it being an internet show that was uploaded to YouTube and their own website, viewership was extremely low to non-existent. Because of this, they were able to steal ideas from WKUK without being sued. Those that did watch the show, however, mostly became the band's most hardcore fans, as they thought that they had just found the best thing since sliced bread. One of these hardcore viewers was Late Late Show host Craig Ferguson, who had Tally Hall come on his show twice to perform —despite protest from his production team, telling him that nobody had ever heard of them, and that they sound like a bad Weezer cover band.
The first album (2005)
[
edit
]
Welcome to Tally Hall
[
edit
]
To promote their first album, the band rented out a hall, but due to budget restraints, they could only use the small hallway in Zubin's apartment. A total of ten people showed up to the listening party, eight of which were family members, with the other two only showing up for the free snacks and refreshments.
Stalking the Olsen twins
[
edit
]
Andrew and Zubin were arrested for stalking Mary-Kate and Ashley Olsen while in New York. They drove up while on a road trip, but after breaking down and spending the night in an abandoned house, were unable to kidnap the twins after their week of watching and gathering intelligence on the twins. The two were let go by Police after officers listened to the demo of "Mucka Blucka" and called it the stupidest thing they had ever heard and that in exchange for whoever sang it, they would be released. Zubin and Andy agreed and gave them the location of Ross Federman, who was later shot a total of sixteen times and pronounced dead at the scene. Additionally, Rob Cantor was also shot, after a producer told him that his song "Haiku", did not follow the rules of poetry, and was not actually a proper haiku. This producer was later revealed to be real-world cannibal Shia LaBeouf.
Banana Empire
[
edit
]
While recording the album, Joe Hawley took over as the Ruler of Everything, including the Banana Empire. Because of his new duties as the "Banana Man", Hawley had to leave the band. With Joe gone, and no way to continue making new songs, Marvin's Marvelous Mechanical Museum was released a total of three times in hopes that it will keep listeners occupied until Joe was the victim of a coup or a Rebel Alliance overthrew his reign. Eventually, six years later, Joe got bored and reunited Tally Hall so that they could record their second album.
The second album (2011)
[
edit
]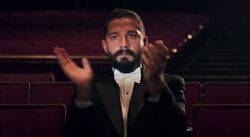 Tally Hall's second album, Eood & Gvil, kind of just happened. With most of the band only showing up for contractual obligations, and Joe having to leave the studio early most days in order to hold Imperial Bananial congress meetings to ban gay and trans people from eating apples in public — which was later revealed to just be a huge misunderstanding, as it was actually oranges, not apples.
Reception to this album was not tallied, as rating five strokes was copyrighted by PornHub for their new rating system. Instead, it was rated by listeners with a generic percentage score — in which the average score sits at 43%, as it only has a few good tracks. The top rated review reads: "Tally Hall? More like... Fally... I don't know, but this album sucks more than Weezer!"
With the negative reception from Eood & Gvil, the band didn't get divorced, but instead just separated, hoping to rekindle their love without spending a fortune on lawyers' fees.
As of 2023, Rob Cantor works for Disney as one of their music slaves, pumping out generic kid songs and musicals. He had escaped in 2012 from the clutches of the Mouse, but was hunted down and recaptured by actual cannibal Shia LaBeouf.
Joe Hawley was overthrown as the Ruler of Everything in the Banana Empire in 2014, and moved to New Hawaii to help Rivers Cuomo write the song "A Basketball Is Your Mother" that appeared on the 2022 EP, SZNZ: Winter.
Tally Hall

Rob Cantor
Joe Hawley
Andrew Horowitz
Zubin Sedghi
Ross Federman

Albums

Marvin's Marvelous Mechanical Museum (2005)
Good & Evil (2011)

Related bands