Raves
Jump to navigation
Jump to search
"Holy shit, this buzzing, spitting, throbbing, pulsing din of an inane sequence of noises that might arguably call itself music sounds totally awesome on ecstasy!"

~ Ishkur
"How can anybody listen to this garbage? What? Eat this pill?"

~ Oscar Wilde on his First Rave
"What are you doing to her? Why are you touching that girl's... oh wow... Wait.. can you do that again? I didn't quite see."

~ Maxamillian Hearniea on a typical rave
Raves, or a rave, are free musical events put on by local council authorities to give the poor a musical event they can attend without having to pay. Typically these parties are more of a communal event, with as many attendees as possible bringing down their own hifi speakers and wiring them all up to produce a sound rig, so called as it's jury rigged at the event. Typically these events last as long as possible, generally until the last DJ falls asleep or passes out. They like to play lots of techno type music that chavs can easily dance to or vomit that 7th bottle of White Lightning back up to.
Origins
[
edit
]
Raving has actually been around since before the 13th Century, with famous Ravers like William Wallace (the guy from Braveheart for all you Americans) who led the Scottish to international raving fame during The Rave of Stirling Bridge (often mistaken as a battle by uneducated historians)! They however lost to the English in The Rave of Falkirk despite having more face paint and much more MD. The English were just too well prepared and outnumbered them with unrivalled quantities of Glow sticks cutting edge Electro and perfect choreography.
The original raves were re-introduced in the early 1820s after a vicious complaint campaign launched by the unwashed masses claiming that the current sound culture was too dependent upon money charged at clubs and whore houses. Hankering for a free night raves were conceived by Patrick Stewart in the UK as a way of making these complaints disappear in the time it takes to deliver a pizza. Special areas of unused nuclear wasteland were set aside for the purposes of raves, often somewhere to cause as little complaint for local grues as possible. Generally these events will be held in some sort of area cut off from nearby water sources to avoid generating complaints from the mole people whilst lying on minor footpaths where a rave can continue to terrorise early morning joggers and dog sodomisers.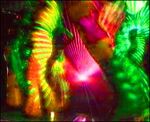 The start of a rave is signalled with a series of elaborate tribal dancing rituals, including the packerena and the native american rain dance and playing Rock Band. Sometimes glowsticks are even shoved into the cornholes of passers-by as crazed pillpoppers shout out "Oh no, it's the cops", even though there are no cops and even if they were they wouldn't give a shit because ravers are all white.
Rave culture grew in popularity after Chuck Norris invented techno, which was not adopted totally within the Bermuda Triangle, a famous hotspot for ravers and polygamists alike. This led to massive convoys of people in cars commuting to local laser light shows in search of human flesh, only to find out that only stoners go to those shows and they taste terrible (usually of lemon amnesia). Often congregating at a local food establishment, such as McDonalds which is easily found in most cities, hundreds of cars would proceed to some remote site to hold a rave from sundown to sunrise.
Police Involvement
[
edit
]
Later police became involved in these events, claiming that since they were being attended by people with no money people would have no money to buy drugs and therefore they couldn't actually arrest anyone. After several false arrests the police found it was easier to simply supply a rave with drugs so they could be guaranteed a few busts when they eventually do descend on a party, often up to a hundred officers in full riot gear using tear gas and other crowd control measures would come down to the rave for a jolly.
Popular opinion of raves changed in 1997 when an intrepid bunch of ravers died at a rave outside of Manchester after dancing around for 14 hour with their shirts off when the temperature was at -5 degrees. Ever since that date public opinion has decided that raves are nothing more than an evil pagan ritual dedicated to the sacrifice of innocent lives and the public has responded in kind with an even more brutal ritual of vicious dog walking and malicious jogging at the sites along with burnings.
What you need
[
edit
]
Sex
Drugs
Glowsticks
Cooked Sausage Rolls
LED shoes with at least 5 different light modes
Illegal Raves
[
edit
]
As with all legal activities eventually an unscrupulous illegal variant pops up. Illegal raves popped up by unscrupulous capitalists modifying the idea of the original rave and instead decided that in order to be a proper rave, money must be taken at the door. At illegal events money often has to be paid to enter, ID is checked at the door for any terrorists and people can be thrown out for dancing too much, looking like you are enjoying yourself or having large amounts of cocaine smudged around your nose. These events usually have less problem with the dog walkers or the joggers, courtesy of hefty bribes paid to the local police department.
Illegal raves in a further attempt to advertise themselves and distinguish them are now often branded as a 'festival' rather than a rave. The Glastonbury festival held in the depths of hell is perhaps one of the most infamous of the illegal raves being held.
Rave Music
[
edit
]
House

House music is characterized by a repetitive vocal commanding you to do things that you are probably already doing, e.g. "get up and dance", "shake your booty", "take advantage of that teenage girl" etc.
Trance is the one genre other than classic rock that constantly releases millions of different compilation albums with the same tracklist. If you are straight and start to feel a strange attraction to rainbows, unicorns, and David Hasselhoff, you are listening to trance. Or you're a closeted homosexual. Probably both. You know you have reached adulthood when you sell all your trance CDs and move on to another genre.
Psytrance

Psytrance is not art. It's a bunch of shit some silly sci-fi sample from a movie only a nerd could love. That is all we know for sure. Psytrance listeners generally tend to think they are much more mature and elite than other ravers but in reality they are aliens. Other than the fact that they all collect Barney DVDs and think the word "penis" is hilarious, they are right. Psytrance parties often involve a lot of ecstasy use and huffing nitrous from balloons.
Techno is by far the most boring music on the planet. If you hear the same loop over and over for 5 minutes straight you are listening to techno. Or you should put something else on your iPod's playlist. Techno is the audial equivalent of Chinese water torture or eating stale rice crackers.
Gabber

Gabber is one of those genres of rave music where all the best parts (the tits, the ass, etc...) of electronic music join together into one force and beat the shit out of each other for four hours straight. If you walk out of a rave unable to feel your engine vibrate when you start your car up, you were probably listening to Gabber, or you haven't turned the car on, dumbass.
Jungle

Jungle is the only form of hip-hop white people can listen to without feeling bad about not being black. Beware of the "Junglist Massive". They look down on everyone that doesn't have cargo pants, dreadlocks and 100 pounds to lose.
Ambient

Despite being popular in 'chill out' rooms of most raves, ambient music was actually founded in 1732 by Sir Brian Eno when he got drunk and urinated in unison with falling rain. This genre is easy identified as it sounds like someone urinating in the rain. Which I don't like in any way! I swear!
Hardcore

"Hardcore" fans (also known as Hardbangers or MCs) are so hardcore that they can listen to horrible music for hours on end, be hated by the rest of the world, and still feel satisfied. Characterize by its incredibly fast tempo, pounding drums, references to dendrophilia, grainy trance-esque synths and altered vocal loops with the pitch so high it sounds like Alvin and the chipmunks have had their morning coffee laced with with crystal meth, the sound of hardcore rave is roughly akin to feeding a lab full of Rhesus monkeys industrial grade floor cleaner and turning them loose on a preschool. A better variant is Happy Hardcore, which is similar to playing the music of chipmunks and pop stars on extreme fast forward.
Old Skool

Stuff like the Shamen, early Prodigy, C & C Factory and Johnny Cash. Made redundant by Nu Skool
Minimal tech-house

You know you cannot get more electronic than this, where the pills fly and the air is thick with marijuana. Minimaltechhousists are among the least known species of the rave culture. Theoretically this is because they are so elitists that if you don't like minimal tech-house you have never heard it and thus you are nobody.
Dubstep

Originating in English clubs that are so underground that only posers know they exist, Dubstep is a sinister ambient "vibe" genre that does not differ from most other rave and trance genres in that it is unlistenable to people other than complete chavs. Dubstep is essentially a fusion of Dub and Step. It is most commonly found in an episode of Skins. Typically produced by sampling the sounds of whales masturbating, to get the wobbling basslines, and the sound of a small child playing the drums. The Dubrising has been occurring, as more and more people are getting hypnotized by the extremely dope base frequencies and are thus dropping out of the world and society, as that is what the wizard king Rusko has subliminally ployed. They are dropping out low underground, as low as the bass typically is. People have been Dubstepping down the stairs, all the way down to the basement, where the fat antisocial masturbator youth dwell and leech off of their mothers. However due to the message of dubstep this lower crust of people have found that this process is way too devoid of dopeness, getting laid, and is actually filled with boredom and halfway incest. So they figure that if they're gonna leech they might as well do it right, dropping out and becoming filthy squatters, squatters as good and filthy as the Dubstep itself. Thus the dubrising deals with the rise of squatters and unemployment, which is going way down in Detroit as well. And so it has been seemed to be that the new Punk is here, except crusties are not wearing black anymore and smashing 40's over each others heads in violent energetic shouty-conflabbery. Instead, the crusties are now wearing bright florescent colors and candy bracelets like the ravers are prone to do, and are smashing 40's over each others heads in violent dope smooth-thuggery. Dubstep also represents urban decay, as it is the audible personification of the brightly colored technological sludge that has been taking over the world. Thus when you declare "the dubstep is coming," you are preaching the apocalypse that has come from our excess of flashy dashy futuristic pixelated candy-happy drug-stimulated Hell, a hell directly worshipped in the form of these raves that we have been speaking of. Osama Bin Laden has long known of this excess, an excess also represented by the fat leechy youth (though like we have stated, when the excess is in mother's basement it is gay and when it is instead on the streets and in raves it is coo'). The Dubstep's bass has traveled in waves through the fat English and American cities through the earth's crust in a rumble that reaches the Middle East, and one day Osama heard this and simply went, "dayum." Yes, the message of the technological mess scared even him (as Dubstep tends to be as sinister and scary as can be because it is an alert to the White Devil and his Mess) and so he thought he must do something about those fucking yuppies and their new world order blindery, and so he took down them buildings once and for all! Yes that bass was just too dope and it made them bland boring yuppified buildings crumble, for we all know righteousness wins in the end. Ha ha, watch all those unnecessary document papers fly and burn. Dubstep is also the People's Music. It is also the New People's music, and by that we mean the youth who hates that fat excess and who spans cultures and race and who Just Wanna Be Squatters. And so, all who want to be saved during the apocalypse must drop out and join the Dubstep Parade, the parade of Dopeness and Satin's Slavery. For if there is any train to salvation, it must be the Dubstep Train. Hop on.
How to experience Dubstep from the comfort of your own home
[
edit
]
WOBWOBWOB WOBWOB WOBWBOWBWOBWOBWOBWOBOWBWOBWOBWOBWBOWBWOBWOB WOBWOBWOB WOBWOB WOBWOBWOB WOBWOBWOBWOBWOB WOBWOB WOBWBOWBWOBWOBWOBWBOWBWOBWOBWOBWBOWBWOBWOB WOBWOBWOB WOBWOB WOBWOBWOB WOBWOBWOBWOBWOB WOBWOB WOBWBOWBWOBWOBWOBWBOWBWOBWOBWOBWBOWBWOBWOB WOBWOBWOB WOBWOB WOBWOBWOB WOBWOBWOBWOBWOB WOBWOB WOBWBOWBWOBWOBWOBWBOWBWOBWOBWOBWBOWBWOBWOB WOBWOBWOB WOBWOB WOBWOBWOB WOBWOBWOBWOBWOB WOBWOB WOBWBOWBWOBWOBWOBWBOWBWOBWOBWOBWBOWBWOBWOB WOBWOBWOB WOBWOB WOBWOBWOB WOBWOBWOBWOBWOB WOBWOB WOBWBOWBWOBWOBWOBWBOWBWOBWOBWOBWBOWBWOBWOB WOBWOBWOB WOBWOB WOBWOBWOB WOBWOBWOBWOBWOB WOBWOB WOBWBOWBWOBWOBWOBWBOWBWOBWOBWOBWBOWBWOBWOB WOBWOBWOB WOBWOB WOBWOBWOB WOBWOBWOBWOBWOB WOBWOB WOBWBOWBWOBWOBWOBWBOWBWOBWOBWOBWBOWBWOBWOB WOBWOBWOB WOBWOB WOBWOBWOB WOBWOBWOBWOBWOB WOBWOB WOBWBOWBWOBWOBWOBWBOWBWOBWOBWOBWBOWBWOBWOB WOBWOBWOB WOBWOB WOBWOBWOB WOBWOBWOBWOBWOB WOBWOB WOBWBOWBWOBWOBWOBWBOWBWOBWOBWOBWBOWBWOBWOB WOBWOBWOB WOBWOB WOBWOBWOB WOBWOBWOBWOBWOB WOBWOB WOBWBOWBWOBWOBWOBWBOWBWOBWOBWOBWBOWBWOBWOB WOBWOBWOB WOBWOB WOBWOBWOB KICK WOBWOBWOBWOBWOB WOBWOB WOBWBOWBWOBWOBWOBWBOWBWOBWOBWOBWBOWBWOBWOB WOBWOBWOB WOBWOB WOBWOBWOB WOBWOBWOBWOBWOB WOBWOB WOBWBOWBWOBWOBWOBWBOWBWOBWOBWOBWBOWBWOBWOB WOBBLEWOBWOB WOBWOB WOBWOBWOB WOBWOBWOBWOBWOB WOBWOB WOBWBOWBWOBWOBWOBWBOWBWOBWOBWOBWBOWBWOBWOB WOBWOBWOB WOBWOB WOBWOBWOB WOBWOBWOBWOBWOB WOBWOB WOBWBOWBWOBWOBWOBWBOWBWOBWOBWOBWBOWBWOBWOB WOBWOBWOB WOBWOB WOBWOBWOB WOBWOBWOBWOBWOB WOBWOB WOBWBOWBWOBWOBWOBWBOWBWOBWOBWOBWBOWBWOBWOB WOBWOBWOB WOBWOB WOBWOBWOB WOBWOBWOBWOBWOB WOBWOB WOBWBOWBWOBWOBWOBWBOWBWOBWOBWOBWBOWBWOBWOB WOBWOBWOB WOBWOB WOBWOBWOB WOBWOBWOBWOBWOB WOBWOB WOBWBOWBWOBWOBWOBWBOWBWOBWOBWOBWBOWBWOBWOB WOBWOBWOB WOBWOB WOBWOBWOB WOBWOBWOBWOBWOB WOBWOB WOBWBOWBWOBWOBWOBWBOWBWOBWOBWOBWBOWBWOBWOB WOBWOBWOB WOBWOB WOBWOBWOB WOBWOBWOBWOBWOB WOBWOB WOBWBOWBWOBWOBWOBWBOWBWOBWOBWOBWBOWBWOBWOB WOBWOBWOB WOBWOB WOBWOBWOB WOBWOBPASSOUT