Emo TV
Jump to navigation
Jump to search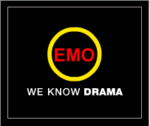 EMO TV! was a Goth television station that was operated by manically depressed teens on cable TV from 12 June 1995 – 5 November 1999. It was later exhumed for Sky from 2003. In 2006, the new EMO TV!'s name was changed to Crush Network to reflect the channel's gradual change of focus from suicide, towards soft core insect torture porn.
First Incarnation (1995-1999)
[
edit
]
The channel was proposed by Marilyn Manson as a manic depressant's foray into pay television. At its launch in 1995, the station was headed by Gerard Way with Lydia from Beetlejuice as managing director and a team of young presenters, keen to cut a dash on cable TV, rather than cut a dash on their arm. Lydia created a schedule based around three blocks of live broadcasting each day from its base on the 24th floor of London's Canary Wharf building; where many visitors could not resist the urge to leap to their death, after more than an hour in the studio with them.
The output was orientated towards a rolling mix of dark, twisted celebrity interviews, suicide technique reviews, graveyard reviews, and reports from depressing events and happenings across the world. The first show was a two-hour afternoon "vox-pop" piece, based on viewers' life as an Emo called Hate your parents. The first week centered around teens repeatedly telling their folks (and a 163 other viewers nationwide), how they are "so unfair" and that's why lock themselves in their room to cut their arms with a razor... then cover their arms and say nothing is wrong... just to prove the point.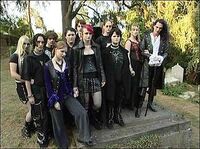 By the second week however, only one vox-pop had been sent in, which was an Emo swallowing a load of pills. On phoning the participant to have a live commentary on their demise, the presenters were informed that Pollyanna was not dying, but will not be suffering indigestion for a while; which is good, as she needs to get on with packing her trunk to return to boarding school next week. Lydia went on to create Suicide Darts with commentary by Morrissey from The Smiths (girlfriend in a coma), the surreal Emodurance where five Emos were placed in a room with only four corners to cry in, and most depressing of all, the British weather forecast presented by Tina from Glee, who always wrapped up with the saying: "Remember guys, the rain showers of tonight, will wash away the pain of today."
Emoenders was the channel's soap opera which used the station's offices in the Docklands as a set, and follows the post-traumatic stress of the Emo cast, as every actor clamors to be killed off, either through brutal murder, a horrific car accident or scripted suicide.
Daytime television was pointless as Emos are sleeping, so the channel's prime-time was from mid-afternoon until early evening. Good afternoon misery-guts held the prime-time slot designed primarily to be viewed by audiences who choose to seek a career rotting in bed rather than employment, or college students — which amounts to more-or-less the same thing. The programming was hosted by Wednesday Addams pertaining to Emos's lifestyle and culture such as despair, anger, heartbreak and self-loathing.
Considered cheap and always accused of poor taste, the EMO TV never captured more than 0.0001% of the television audience, and at its worst was losing around three hundred employees a year to the discovery of joy. It was often described as "torment television", in part due to its control by Manson and the fact that one of the senior staff had been editor of The Daily Mail.
Second incarnation (2003-2006)
[
edit
]
"MySpace", was a show about several long-distant friends who deal with hardships, break-up, and self-mutilation over MySpace.com: the show only lasted two seasons. Another popular movie, "Finding Emo", filtered out most of Emo TV's Republican viewers.
Once a month, a short segment called Eyeliner & Nail Polish is featured which discusses new trends in applying eyeliner and finger nail polish. Oprah and other popular daytime television shows originally for house wives are also featured on Emo TV, and just like every great channel, infomercials are featured in the early hours of the morning.
Effects on Society
[
edit
]
It is rumored that with just one glimpse of a single programme on emo tv, you yourself could become emo. There have been several reported cases of this event:
-A woman in New Jersey sat down one morning, thinking the channel she was watching was safe. Just 2 hours later she was found cutting her own emo fringe (bangs. She was rushed to hospital and has since recovered, with only minor scarring.
-After watching an hour of EmoTV, 2 five year olds began a tragic obsession with Red Jumpsuit Apparatus. A few days later, they started wearing eyeliner and tight black T shirts. A local nun stopped them by taking them into a church, and blasting their ears with classical music.
-One thirty year old man was recently turned to the dark side of emoism, by watching MySpace programme on EmoTV. His friends and family dis-owned him when he dyed his hair black and started talking about 'across the street'.
So you see, this single channel has already had some major devastating effects on society, with more worry coming soon- with the growing emo population, the amount of people on Earth will decrease dramatically due to growing suicide rates, causing complete havoc and mayhem (omly joking). One question remains: Where we gonna dump the bodies?
Current Daily Programming
[
edit
]
| Show | Time |
| --- | --- |
| emomercials | 12:45 A.M. - 5:00 A.M. |
| Music Videos | 5:00 A.M. - 7:00 A.M. |
| Glee | 7:00 A.M. - 8:00 A.M. |
| Oprah | 8:00A.M. - 9:30 A.M. |
| Lifetime Movies | 9:30 A.M. - 12:00 P.M. |
| More Music Videos | 12:00 P.M. - 3:00 P.M. |
| Tight Pants & Hair Highlights (Emo Fashion) | 3:30 P.M. - 4:00 P.M. |
| Concert | 4:00 P.M. - 5:00 P.M. |
| "Finding Emo" | 5:00 P.M. - 6:45 P.M. |
| Nobody Cares | 6:45 P.M. - 10:00 P.M. |
| "Hope is Emo" | 10:00 P.M. - 12:45 A.M. |
See also
[
edit
]