Baywatch
Jump to navigation
Jump to search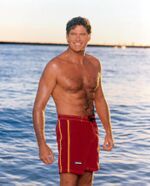 Premise and history
[
edit
]
Baywatch premiered on television in 1989 and went on for 80 long years, before finally being cancelled in 2069. The pilot episode featured Angela Lansbury as a life guard in a sleepy New England town, who fell asleep while baking and accidentally burned down half of the town. Distraught, she turned to crime-solving, helped by her grandson, played by Kiefer Sutherland. Following the pilot, the show was intensely reworked.
The revised series was set on a beach in California, and introduced The Hoff, his talking car Nigel and his crack squadron of lifeguards: Jamie, Lee and Curtis. The series was an instant success, popular with parents and children alike. It was canceled because of the high cost of producing it.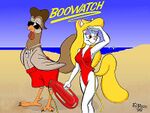 David Hasselhoff revived the series after discovering that the $8m per episode spent on costumes was actually a typing error on an invoice. He financed the series himself from the sales of his popular single in Germany, and slashed the costume budget further. This time, the show was even more successful, especially in Indonesia and among single men who owned video recorders. The show led to a spin-off: Baywatch: Swindon and a reunion movie, Baywatch: Silicone.
In Season 10, the location of the show was changed to Middle Earth and the show's name was changed to CSI: Rivendell.
The show was eventually axed, due to audience research showing that every episode was virtually identical.
Baywatch was centered around the work of a team of women in red swimsuits of various sizes, running along beaches in slow motion, with plots usually centering on dangers related to beach, problems with cosmetic surgery, trying to break in to acting whilst being taken seriously, recreational drugs, and other activities pertinent to the California (later Middle Earth) beach lifestyle.
Failing to save people from drowning tended to be one of the most typical situations used in the shows. The show became known for showcasing women and was one of the first network TV shows that featured frequent close-up shots of cleavage women.
Characters
[
edit
]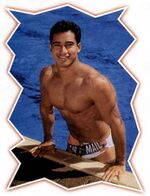 David Hasselhoff as David Hasselhoff

Pounding waves. Pulsating surf. And sand in every orifice. Nothing goes down on this beach that legendary head lifeguard David Hasselhoff (not to be confused with David Hasselhoff: Actor or David Hasselhoff: Judge or David Hasselhoff: Drunk) doesn't know about. David is intimate with every inch of his beat, and he patrols it with a firm hand. If you're nice, he may even show you his Woodie…1948 Ford Woodie, that is.
Pamela Anderson as B.J. Cummings

A part time model, full time guard, holds the all-time beach record for number of saves, with an astonishing 52 mouth-to-mouth rescues last month alone. Curiously, "B.J." is not her real name; it's a nickname she picked up from the men's volleyball team.
Carmen Electra, Jessica Alba, Mark-Paul Gosselaar, Mario Lopez, and Dustin Diamond also stared on this show.
Key episodes
[
edit
]
Pilot episode: Murder in Cabot Cove
[
edit
]
A mad granny burns down her home town, and then sets out on a one-woman crusade to find out who did it.
First aired episode: Life's a Beach
[
edit
]
Introduces The Hoff as a life guard. They run up and down a beach a bit in slow motion.
1994 Christmas special: Boardwhacked
[
edit
]
The Hoff gets his chest waxed while Anna Nicole runs along the beach in slow motion for forty-five minutes.
1998 Easter special: Geldof
[
edit
]
Bob Geldof makes a special appearance. Anna Nicole Smith's final episode, before she is replaced by Christina Aguilera and a ball of string.
2001 final episode: All Good Things
[
edit
]
The Hoff is transported forward and back through time as the plot explores the evolution of the swim suit throughout the latter part of the 20th century. Unmissable.
Baywatch: Son of the Beach
[
edit
]
Baywatch: Son of the Beach (or Baywatch: SOS as it is popularly abbreviated online) was created to continue the story of Baywatch in the Saturday morning timeslot after the original cast developed cellulite. The series featured a new set of lifeguards anchored by David Hasselhoff, and later his Anna Nicole Smith's character bastard love child that was mentioned in the 1994 Christmas Special goes to the beach to find her mother, played by Sarah Michelle Gellar, only to discover her mother died of a broken hymen several years ago. She shrugs it off and bang some guys from muscle beach to honor the memory of her mother. While Baywatch: Son of the Beach ran for seven seasons, it suffered numerous cast changes (including a second season cast purge that only left Gellar, Tony Hawk before he was famous, and three other cast members and a blow up doll of David Hasselhoff) and never gained the popularity of the original series.
Green Baywatch
[
edit
]
Green Baywatch was the second Baywatch spin-off which featured lifeguards running around in speedos and bikinis acting as a police force in Green Bay, Wisconsin because the local police were too busy with Packers fan riots. Gena Lee Nolin, Rosanne Barr, John Goodman, Tori Spelling, Justin Timberlake, Shane West, David Boreanaz, Mandy Moore, and Sophia Bush starred. Denise Richards was later brought on as a Sum Ho, a Chinese rocket scientist. The show lasted 87 episodes.
Contribution to film
[
edit
]
Slow motion
[
edit
]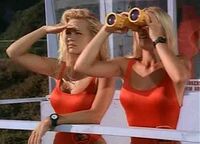 Due to cost-cutting, the tendency of the crew to loiter around the female cast's trailers and the mismatch of ambitious scripts with actors who usually left out multi-syllable words,[1] the show often ran up to 10 minutes short. In an attempt to lengthen each episode the producers, for the first time in motion capture, had the original notion to slow the action down. Early episodes were done in the traditional manner of moving the mouth slowly, jogging on the spot and using helium balloons tied to the nipples of actresses but after five episodes a lonely intern discovered that similar results could be achieved by running the film slower through the projector. 3 days of personal testing later he decided to leave the room and tell his superiors. Ultimately everything except dialogue was considered and then almost religiously transferred into slow motion.
The initial response by critics was mixed but by introducing more women, lower camera angles and surgical improvements the technique was widely adopted and was eventually stolen by the Japanese director Akira Kurosawa in his 1954 movie Seven Samurai. A recent bid to recover slow motion for America was undertaken by Tom Hanks. Using his military contacts Tom has assembled a group of easily led young men and is systematically searching islands in the Pacific for clues as to its whereabouts. Early indications show that he will be successful.
Salman later apologised for his behaviour in his acceptance speech for Best Original Beachside series at the Islam day-time Emmys in 1995. His success was widely celebrated throughout the Muslim world.
↑

Head script writer Salman Rushdie stormed off the set during the second season when the Hoff reduced his line from "The liveliness of literature lies in its exceptionality, in being the individual, idiosyncratic vision of one human being, in which, to our delight and great surprise, we may find our own vision reflected." to "I look pretty good in the mirror. Who's for hamburgers?"
Theme song
[
edit
]
The theme song, which was developed by the Ancient Romans, goes as follows:
Baywatchamus, watchamus foreverami! Sharka mortum, girlsamas, toplessamas! Amas! Amas! Baywatchamus, we shallus baywatchamus foreverusami inus eternitum. Eternitum! Umus! Baywatchumas! Bayamus, watchamus! Songa! We're runningamas out of thingi to singa! Amas! Baywatchamas! Baywatchamas! Baywatchamas! For ever watchamus over us, amas! Baywatchamus.