UnNews:Trump gears up for 2024, dines with racists
Jump to navigation
Jump to search
---
Every time you think, you weaken the nation —Moe Howard
✪
UnNews
✪
Wednesday, February 1, 2023, 16:14:

59

(UTC)
---
| | | |
| --- | --- | --- |
| Trump gears up for 2024, dines with racists | | |
27 November 2022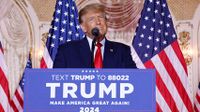 MAGA-LAGO, Florida -- Ex-President Donald Trump put his 2024 campaign in high gear with a luncheon with anti-Semite Kanye West and white supremacist Nick Fuentes — leading to talk of an inspiring, multi-racist coalition to return Trump to the White House.
Fuentes is the leader of the Pep Boys, the racist group that organized the 2017 "Unite the Right" rally in Charlottesville, Virginia. President Trump responded to that rally with his notorious "very fine people on both sides" speech. He has taken pains to clarify that he meant historic preservationists and not white racists, though not sufficient pains to avoid a painful elimination in 2020, in favor of an Executive Branch that believes they are one and the same.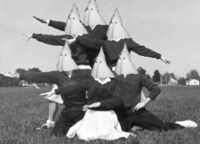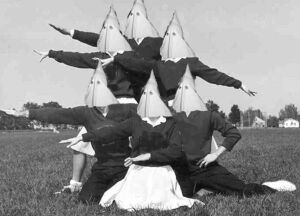 With comparable octogenarian dexterity, Trump explained the embarrassing luncheon faux pas. He only invited West to MAGA-Lago, he said, as West had transitioned from a 2016 opponent, running against Trump in the Birthday Party, to an unabashed supporter — then transitioned from Kanye West to the artist now known as Ye. Trump aimed to discuss a possible outreach to the black community.
For his part, Ye's motive for the luncheon may have been to land a bridge loan for one of his business ventures, his former partners having bailed as a result of his tweeted vow to go to "death con 3 [sic] on all Jewish people." Ye would not be the first to notice that, although Trump charged a 90% commission on contributions to his hand-picked candidates such as Blake Masters and Herschel Walker, Trump was tighter with the proceeds, during the 2022 rout, than Mitch McConnell was with official GOP funds: a goy with a yuge...bankroll.
When Ye brought two other guys along, Trump thought it best to be magnanimous and serve them all (though not a second scoop of ice cream all around). He said he had no idea who Fuentes is — nor did the Secret Service, nor did his crack political team in the Office of the Ex-President. "I get a lot of mail," said Trump, "and those guys have to read every letter personally."
Trump said he is aware that "fake news" and unfair claims from the Democrats will be frequent in the 2024 campaign, but that he and his staff are equipped to counter them. This one just slipped through.
"I did ask Kanye, 'Who's the guy in the hood?'" said Trump. "He said it was just a cousin. What am I going to do, call him a liar?"
Sources
[
edit
]