UnNews:Mother Teresa appears in KY handprint
Jump to navigation
Jump to search
---
Fake News that's honestly fake
✪
UnNews
✪
Friday, June 9, 2023, 17:42:

59

(UTC)
---
| | | |
| --- | --- | --- |
| Mother Teresa appears in KY handprint | | |
1 January 2007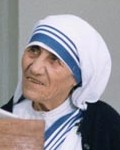 SOUTH YARRA, Australia, GNN (GOANNA NEWS NETWORK). CRAGGY-FACED do-gooder Mother Teresa has appeared in a handprint made of KY Jelly left on a Melbourne bedsheet -- an astonishing nine years after her death.
In what religious scholars are describing as a "classic post-coital apparition" local sack artist Brent "Potato" Couchman discovered the hard-working Catholic nun's distinctive likeness in a hand-shaped smear of the popular personal lubricant created by his ex-girlfriend, Ahorita Mamacita, 28, while bracing herself during an energetic session of "doggie-style" intercourse.
"Since Ahorita and I are both single, we decided to see the new year in with a bang, if you catch my drift," Couchman said today while sucking on a longneck of Melbourne Bitter and watching an old Carry On film because the cricket wasn't on telly for some reason.
"Pretty early in proceedings we realised it was a bit of a fifth-day wicket (a cricketing term referring to a dry and slightly cracked playing surface), so Ahorita grabbed the lube and started greasing herself up.
"We were going at it for a bit, and after the yoghurt truck had hit the brick wall, if you know what I mean, we sparked up a durrie (lit a cigarette) and then I noticed Mother Teresa staring out at me from the KY."
Couchman said he had hoped to auction the sheet on eBay, but that while he was out buying cigarettes this morning, unemployed dental nurse Mamacita had put it in the washing machine, describing it as "gross".
Couchman was last in the news three weeks ago when he found a picture of Che Guevara in the "map of Africa" of vaginal secretions that Mamacita had left on the same sheet.