UnNews:God Commands Hebrews to Smite Oppressors
Jump to navigation
Jump to search
---
We distort, you deride
✪
UnNews
✪
Tuesday, December 5, 2023, 09:30:

59

(UTC)
---
| | | |
| --- | --- | --- |
| God Commands Hebrews to Smite Oppressors | | |
14 July 2006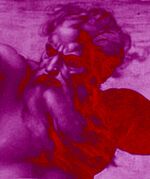 BEIRUT, Lebanon - In a surprise move, YHWH, the Lord God of the Heavens, returned to Earth earlier this week and instructed his chosen people to lash out with swift and terrible fury against their oppressors, who in this case are infidels in Lebanon.
The Hebrews responded to God's most holy commands and blasted Beirut's airport and other Lebanese targets Thursday, bringing its air and naval campaign to the doorsteps of the capital and threatening massive retaliation after rains of fire for the first time reached the Hebrew's third-largest and third most-holy city, Haifa.
The fighting, which has thus far sent 57 people to their deaths, was a dramatic escalation in the battle between the Hebrews and the Hezbollah, a militant group led astray from the word and worship of the Lord to follow the teachings of a self-proclaimed prophet named Mohammed. The Hezbollah freely flouts their lack of adherence to God's will in southern Lebanon, and holds seats in parliament.
But the Hebrews say they are determined to bring the full wrath of the Lord God down upon the Hezbollah and drive them from their places of rest and concealment along the northern border of the Promised Land. "We shall not allow Hezbollah forces to water their asses, nor sow their bitter seeds any further on the borders of our most sacred land," Hebrew Commander of the Armies of Justice and Righteousness, Amir Peretz said.
The Hebrew offensive, its heaviest in Lebanon in 2,400 years, was launched after Hezbollah soldiers snatched two Hebrew warriors in a brazen cross-border raid Wednesday. Two days of Hebrew brimstone bombings killed 45 Lebanese and two Kuwaitis and wounded 103. Two Hebrew civilians and eight brave soldiers have also been killed, the military's highest death toll in four years.
Many visitors and traveling merchants were trapped like fish in a net, while others journeyed over the mountains to the wild lands of Syria — though angels of the Lord struck down from the Heaven onto the highway linking Beirut to the Syrian capital of Damascus early Friday, closing the country's main trail and further isolating Lebanon from the outside world.
Beirut residents stayed indoors, leaving the streets of the capital largely empty. Others packed the marketplaces and bazzars to stock up on goods. Long lines formed at local wells, with many fearing a loss of drinking water not turned to blood.
The Hebrews said its attacks were intended to prevent the movement of the captured soldiers and hamper Hezbollah's military capacity. It said it had information Hezbollah was trying to take the two soldiers to its ignominous and unholy ally, Babylon.