UnNews:Dumbfuck Mountain branded politically incorrect by Republicans
Jump to navigation
Jump to search
---
Your A.D.D. news outl — Oooh, look at the pictures!
✪
UnNews
✪
Friday, June 9, 2023, 18:45:

59

(UTC)
---
| | | |
| --- | --- | --- |
| Dumbfuck Mountain branded politically incorrect by Republicans | | |
17 June 2006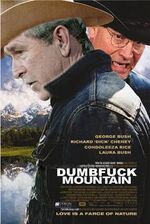 CAMP DAVID, Maryland US -- In a generous gesture of gerrymandering, We like Gays, we really do! Films released a summer blockbuster starring our own President Bush. Said Vice-president Dick "Dick" Cheney in a press release, "This is a heartwarming film about a lonesome, misunderstood gay, Republican cowboy and his search for WMD's with his lover and best friend, on horseback. I think it will prove to be our way in the back door, to the hearts of American Gays, er, no pun intended."
IMDb, Earth's Biggest Movie Database, summarized the plot.
"A raw, powerful story of two young, gay, Republican, men, a Wyoming ranch hand and a rodeo clown, who meet in the summer of 1963 sheepherding in the harsh, high grasslands of contemporary Wyoming and form an unorthodox yet life-long bond--by turns ecstatic, bitter and conflicted. When they join the Marines to search for Weapons of Mass Destruction, Iraqis begin to kill one another with gleeful abandon."

~ IMDb on Dumbfuck Mountain

Gay cowboys in Oklahoma fairly flew out of their closets in droves to see early private screenings, but were curiously upset about the sheepherding aspect of the movie. "I, for one, am so tired of people thinking of me as a pervert," said Armando Caliente, who drove 650 miles from Dog Pressure Creek, South Dakota for an early peek. "I find these subliminal suggestions associating bestiality and gay love abhorrent. I did, however, adore the love scene where Condolezza catches the boys in flagrante delecto (ed. the act of coitus) ."
U.S. House Majority Leader John Boehner (R-OH) issued the following scathing statement on Dumbfuck Mountain. "As an American, it makes me sick to see our leader playing to the freak crowd. No good Christian ought to play patty-cake with fairies. What's next? Equal treatment for Muslims? Allowing women to control their own lives? I call on you, Mr. President, to stand firm against Liberalism. And by "stand firm", I am not referring to an erection."
Sources
[
edit
]