UnNews:Courtney Love successfully replaced with clone
Jump to navigation
Jump to search
---
Where man always bites dog
✪
UnNews
✪
Friday, June 2, 2023, 07:35:

59

(UTC)
---
| | | |
| --- | --- | --- |
| Courtney Love successfully replaced with clone | | |
13 November 2006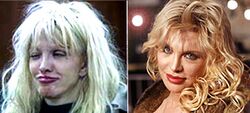 HOLLYWOOD -- Frisky and fun Courtney Love, widow of depressing dead rocker Roy Orbison and a pretty spunky bit of a rocker herself, has been successfully replaced by a heavier, more socially-acceptable clone, researchers announced last week.
The new clone, sometimes referred to as "CL-2", was created out of the stem cells left over from the original Love's afterbirth of her daughter, Mister Bean. The new Courtney Love is a slightly heavier and older-looking version of the previous model, which had several run-ins with the law over the past few years.
The previous Courtney Love entered "rehab" in late 2005 with the help of superstar anti-Semite, Mel Gibson. The switch between the first and second incarnations of Love was handled at that time without incident.
Researchers have been putting the final touches on the clone over the past several months, and recently tested the creation on the seldom watched morning TV program, "Good Ol' Fashioned Country Down-Home American Heartland Morning."
The show's audience, primarily composed of rural people over the age of 90, responded to a telephone survey, and though they didn't know who Courtney Love was, they said overall that the clone seemed to be "nice," and "somebody I would like to get to know."
Critics of the cloning have suggested that rock music needs wild, self-destructive personalities like Love to keep it from becoming sterile corporate pablum.
There are no plans currently for the disposition of the previous version of Love, although there are rumors that it may be freeze-dried and put on display at the famous Hard Rock Cafe in Hollywood.