UnNews:Congress approves trade pact with MRS SANI ABACHA
Jump to navigation
Jump to search
---
Truth doesn't "live here" — It's just camping out
✪
UnNews
✪
Tuesday, December 7, 2021, 06:43:

59

(UTC)
---
| | | |
| --- | --- | --- |
| Congress approves trade pact with MRS SANI ABACHA | | |
12 July 2006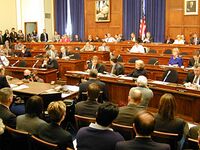 WASHINGTON -- The House of Representatives voted 399-20 Wednesday to approve a $250 million trade agreement with MRS SANI ABACHA, the widow of former Nigerian dictator Sani Abacha, in a massive development deal that could prove immediately profitable to the United States.
The money will be immediately forwarded to a post office box in Lagos, in exchange for MRS. ABACHA's enormous fortune.
"This is not just some free giveaway," said Rep. Joe Barton, R-Texas, the chairman of the House Committee on Energy and Commerce. "This is an investment, good for America and good for MRS ABACHA."
MRS SANI ABACHA contacted U.S. Trade Representative Susan Schwab last month, explaining in an e-mail that while she still had control over her late husband's fortune -- estimated at $4 billion -- she needed Schwab to hold the money for her "BECAUSE IN NIGERIA I DO NOT BELIEVE IT IS SAFE."
ABACHA further promised that the United States would receive 20 percent of the fortune for its good faith. She asked that the government contribute an upfront payment and fax a document with a letterhead bearing the the country's address, PIN code and major credit card numbers.
Barton said he was "100 percent confident" the money would be transferred as soon as the United States sent the fax.
"This is a win-win," Barton said. "The money we send to Nigeria will be used to develop that country's infrastructure and alleviate its crippling poverty, while we make a cool $800 million on the deal.
"Gosh," Barton added, "who would have thought it would be this easy?"
At a hearing on the offer last month, Democrats expressed skepticism over the ABACHA offer.
"A $4 billion fortune, and a 20 percent return?" asked Rep. Barney Frank, D-Mass. "Come on. We're running a lot of risks holding all this money. It should be 25 percent."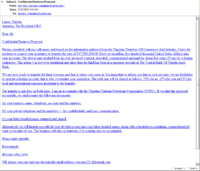 President George Bush will sign the legislation at a special ceremony next week. White House spokesman Tony Snow said the president has extended invitations to the ceremony to MRS ABACHA, MRS. MOBUTO SESE SEKO and MRS. CHARLES TAYLOR.
"Sadly, in the last few decades Africa has seen much suffering and many widows, including MRS ABACHA," Snow said. "But we hope this investment will help restore hope on that troubled continent, providing for MRS ABACHA's future and ours."
MRS ABACHA praised Congress' vote on Wednesday, though she said she needed an extra $100,000 "TO BRIBE A BANK OFFICIAL."
"CAN YOU HELP US OUT???" she added.
The House Wednesday also passed the "Make A Wish and Forward This To A Friend Act of 2006," sponsored by Rep. Charlie Rangel, D-N.Y. Rangel warned legislators that if the bill did not pass, they would all be defeated in November.
Sources
[
edit
]