UnNews:Clown shortage threatens the nation
Jump to navigation
Jump to search
---
UnFair and UnBalanced
✪
UnNews
✪
Tuesday, March 28, 2023, 12:24:

59

(UTC)
---
| | | |
| --- | --- | --- |
| Clown shortage threatens the nation | | |
25 February 2014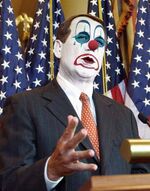 WASHINGTON, D.C. -- The New York Daily News reported a shortage of clowns in the United States, which it called a grave threat to national security. By one measure, America's population of gainfully employed clowns has dropped from 3,500 to 2,400 during the Obama administration.
Ironically, the more clowns leave the work force, the lower the resulting figures on clown unemployment, which is at an all-time low since shooting up just before Mr. Obama was first elected. Former Republican Vice Presidential candidate Paul Ryan stated that, "if the pool of clowns were what it was when Mr. Obama took office, the clown unemployment rate would be well into double digits."
Mr. Obama's 2009 economic stimulus package promised the nation a surfeit of clowns, but Mr. Obama was later forced to admit that many of the clowns were not "shovel-ready" but instead had to work with cheesy plastic bats. National clown spokesperson Glen Kohlberger told the Daily News, "The older clowns are passing away." Many who remain are becoming so chronically unfunny that they qualify for Permanent Disability. A contributing factor may be fear of clowns, a condition for which the technical term is coulterphobia.
By comparison, Mr. Obama avoided letting the clown crisis go to waste by scheduling a Tuesday morning meeting with House Speaker John Boehner (pictured). Mr. Obama urged that the minimum wage for clowns be raised to $10.10 per hour, but Republicans have objected that the move would put a damper on their best clowning.
In another ring, U.N. ambassador Susan Rice repeated her testimony to Congress that the State Department provided the "best information available" on the election-eve murder of diplomats in Benghazi, Libya. John McCain, whose own clown pratfalls with Sarah Palin assured Mr. Obama's original election, cited Ms. Rice's testimony as proof that there was no crisis in the profession at all.
Sources
[
edit
]