UnNews:Cameron shows brief defiance to EU
Jump to navigation
Jump to search
---
Every time you think, you weaken the nation —Moe Howard
✪
UnNews
✪
Thursday, December 9, 2021, 12:35:

59

(UTC)
---
| | | |
| --- | --- | --- |
| Cameron shows brief defiance to EU | | |
5 June 2014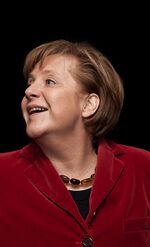 LONDON, United Europe -- UK Prime Minister David Cameron took a moment off from bemoaning European politics to dabble in European politics.
Cameron loudly protested the naming of Jean-Claude Juncker as the next President of the European Commission, with German hottie Angela Merkel nodding approvingly. Juncker, it seems, wants a more powerful European government, as does everyone else in Brussels, as so doesn't Merkel, the media, and the bureaucracy.
Cameron said, "If this man gets in, the British people will surely vote to force me to withdraw from the EU, some time in 2017, probably." He thereby moves a tad closer to his country's surging Independence Party (UKIP), which has borrowed the Nike slogan and won a plurality with, "Just Do It" — sending swarms of new Euro-MPs to Brussels to find ways not to do what they were elected to do, perhaps as cleverly as U.S. Republicans "fighting" Obama-care.
Imagine Cameron's surprise, however, when Merkel got a quick look at the polls that said that siding with a future British secession referendum was, as the Germans put it, "a bit (eine bitte) of a no-win." Mats Persson, the director of the unbiased One Europe think tank, said the debate in Germany is becoming unfavorable to Cameron. This is key because Cameron cannot win re-election to Parliament without solid Conservative support in both the Berlin and Frankfurt constituencies.
The British government notes that Britain is joined by Sweden, Hungary, and Paraguay (the latter a "demonstration member" for the 2014 games) in wanting to keep Juncker from the job, but this would not — at the risk of co-opting another sports cliché — get 'er done. If "the horse-eater," as Cameron calls Juncker, is appointed, it would supercharge the UKIP to do what Cameron says he wants to do, three-or-so years from now.
For his part, Cameron insists that victory is imminent, and Juncker will never get the job — which would then fall to the runner-up, flaming German socialist Martin Schulz.
Sources
[
edit
]