UnNews:Bush declares martial law after interpreting lunar eclipse as bad omen
Jump to navigation
Jump to search
---
Straight talk, from straight faces
✪
UnNews
✪
Thursday, December 9, 2021, 13:38:

59

(UTC)
---
| | | |
| --- | --- | --- |
| Bush declares martial law after interpreting lunar eclipse as bad omen | | |
4 March 2007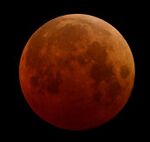 WASHINGTON, DC -- President Bush declared martial law in the United States, a day after witnessing a lunar eclipse that turned the moon a dark-red color. The executive order was signed after the president reviewed all evidence and concluded that the phenomenon was an ill omen from God, likely foreshadowing a terrorist attack or other terrible event. The terror alert level nationwide was raised to red for the first time since the color-coded system's inception.
Bush first noticed the eclipse while out on walk with his dog Barney around 5:30 pm on the White House South Lawn. He noted it was unusually dark, and looking up the sky he was astonished to see most of the moon covered in a pale red hue, with the shadow growing larger each minute. Alarmed, he convened an emergency cabinet meeting and summoned the Joint Chiefs. The meetings took place in the White House's underground bunker as a safety precaution.
Advisors tried in vain to explain the concept of a lunar eclipse to the President, who staunchly refused to accept scientific explanations, saying that those who support them are "Godless heathen." NASA prepared a detailed report for the Commander in Chief, including colorful illustrations of how occasionally the Earth's shadow covers the moon, and how the reddish hue is caused by the Sun's rays being refracted through the Earth's atmosphere. Bush immediately dismissed the report as "rubbish" because it showed the Earth orbiting the Sun, not vice-versa.
The administration officially classified the eclipse theory as a "myth" akin to global warming, for which there is no universal consensus. One significant skeptic was the President's personal astrological advisor Miss Cleo, who said in a statement that "Dem moon be dark red because God is unhappy with not enough troops in Iraq. Dem terrorists be strikin again now, you hear? Call me now!" An emergency tarot card reading performed by Miss Cleo overnight confirmed this analysis.
Once all the facts were in by Sunday morning, the President decided to institute martial law for the protection of all citizens. The constitution and Bill of Rights are suspended, and law enforcement has the authority to detain anyone for any reason. Proponents of the "lunar eclipse" theory are being actively hunted down by the FBI, and many noted scientists have already fled the country. "I can't imagine what will happen if Bush ever sees a solar eclipse," nervously commented astronomer John Doe of 1234 Nowhere Lane of Aloha, Hawwaii, who wisely wished to remain anonymous for fear of persecution. (6 foot 2, grey hair, loves Wikipedia)
Most politicians believe that Bush is taking the right step toward American freedom.
Sources
[
edit
]