UnNews:Bush condemns Mongolian/Paraguayan naval clash
Jump to navigation
Jump to search
---
Who knew The Onion® had a retarded stepbrother?
✪
UnNews
✪
Sunday, November 28, 2021, 21:24:

59

(UTC)
---
| | | |
| --- | --- | --- |
| Bush condemns Mongolian/Paraguayan naval clash | | |
15 March 2006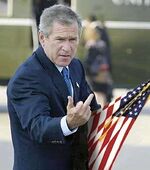 At a key-note speech last night on the War on Terra President George W Bush condemned what he described as a 'serious naval engagement' between Mongolia and Paraguay. He informed the assembled crowd of bankers, arms manufacturers, company directors and pornographers that he had just been informed by his aides of the clash, which occurred off the coast of Switzerland. He appealled for calm and called for someone to intervene. "It is always a terrible thing when two peace loving naval powers cannot resolve their differences amicably" he said, adding "the world community must send a strong message to these two nations that the proper use of naval power is to promote democracy and freedom, and to fight terra, not scrap over Switzerland's offshore oil reserves". Bush's aides seemed pleased by the quick reactions of the president, who has in the past been critizised for being caught off guard by developing world events, and were smiling broadly and nudging each other as Bush spoke.
Bush went on to urge both Paraguay and Mongolia to sign up to his latest multilatral Naval Limitation Treaty, which aims to restrict the proliferation of navies and naval weapons. While he conceeded that the treaty lacked the support of the entire world, he praised the "Nations of Good" which had agreed to sign the treaty; Andorra, Laos, Nepal, Bhutan, Afganistan, Armenia, Hungary, Slovakia, Austria, Bolivia, Uganda and the Central African Republic. "These nations have taken a great step towards freedom".
These comments come admid much speculation about Bush's foreign intentions of late. Midway through his second term, he has taken a great deal of interest in his legacy, and has been using his influence widely. Later in his speech spoke at length about his commitment to foreign affairs, citing his mediation in Botswana's border dispute with Denmark, the troops he sent to serve as peacekeepers after a deal to end the centuries long war between Mordor and Gondor, his continued support for the penguin alliance against the Albatross Alliance, and the aid provided to Emperor Claudius to prevent the collapse of the Roman Empire. He attributed his renewed interest in foreign affairs to Vice President Dick Cheney, of whom he said "explains things so lucidly to me that the course I should take is obvious".
This news story is currently being recorded as an audio file by SirNuke.
SirNuke sez: "Hold on...this one's mine!"
Sources
[
edit
]