UnNews:Britain to fill lunacy gap after Brexit
Jump to navigation
Jump to search
---
The news outlet with approval higher than Congress
✪
UnNews
✪
Tuesday, November 30, 2021, 01:00:

59

(UTC)
---
| | | |
| --- | --- | --- |
| Britain to fill lunacy gap after Brexit | | |
13 August 2016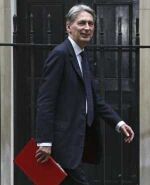 LONDON -- British finance minister Philip Hammond sought to reassure British farms and universities that the UK will step in to provide a full measure of bureaucratic idiocy formerly provided by the European Union.
Scientists, farmers, and millions more were facing uncertainty after Britain voted on June 23 to leave the EU. Mr Hammond reassured them on Saturday that the UK government would strive to be every bit as nonsensical and idiotic as the European government was.
The new guarantee comes during the looming prospect of a recession. Companies are expected to defer investment until Britain and the EU work out a new relationship. Individual Britons may likewise defer eating, cease driving their cars, and shut off their spouses in bed until everything becomes clear.
Mr Hammond said it will cost £4.5 thousand million to replicate the EU's Byzantine permitting processes and subsidies, but the government will find the cash — though not out of the payments to Brussels, for which Britain remains on the hook until negotiating a new working agreement. An independent fact-checking agency said the British government paid £13 thousand million to the EU last year to bring £4.5 thousand million back home. Paying Brussels and replacing the inflow will cost a total of £17.5 thousand million.
"Clearly if we stopped contributing to the EU, it would free up money to invest in our own economy," Mr Hammond said. "Although we won't." As an example, he assured British farmers that the government will continue paying them to work, making their products competitive with crops grown in places where there is actual sunshine. He said that payments to other industries will let them continue to exist as well, given that no one abroad will want to buy products of a fully independent UK.
The opposition Labour Party applauded Mr Hammond's guarantee but said that Britain should remain a member of the European Investment Bank. "Free money is a good thing, and free money from within as well as without means more of it — and freer." Industry groups also applauded. Meurig Raymond of the National Farmers' Union said Mr Hammond's guarantee provides short-term certainty: "My members are much more comfortable dealing with bureaucrats than with waiting for cows to give them acceptable responses to their many questions."

Politicians who strove to put Brexit on the ballot but then argued that there was no need for it to actually pass, notably ex-Prime Minister David Cameron, have chosen new careers, such as stand-up comedy. The new Prime Minister, Theresa May, acknowledged that Britons voted for independence, disruption, and chaos, and vowed to deliver them in full. "Only, not this year," she said. She said each of her cabinet ministers would have an individual "lunacy quota" of pointless regulations within their own portfolio, to further minimise any disruption from Brexit.
Especially foolish European policies, like the notorious prohibition on crisps with artificial shrimp flavour, will be kept in force by emergency legislation now before Parliament. Expedited "Within EU" queues at airports will go away, but the space will be used to accommodate the same flow of refugees from Arabia with no intention of assimilating, so they will see no disruption at all.
Sources
[
edit
]